Rate of Shopping Cart Abandonment
According to the data collected by Baymard Institutes, the average rate of cart abandonment is 69.99%.
The reasons listed there in Baymard Institutes were:
1. High costs of shipping, tax, and fees – 48%.
2. Account creation needed – 24%.
3. Slow delivery – 22%.
4. Lack of trust in adding credit cards – 18%.
5. Long checkout process – 17%. You can find more information on the cart abandon statistics page of Baymard Institutes.
With such a high percentage, it's crucial to look into the cause of shoppers abandoning their purchases. This post will assist online business owners to reduce cart abandonment.
In what ways can we decrease Shopping Cart Abandonment?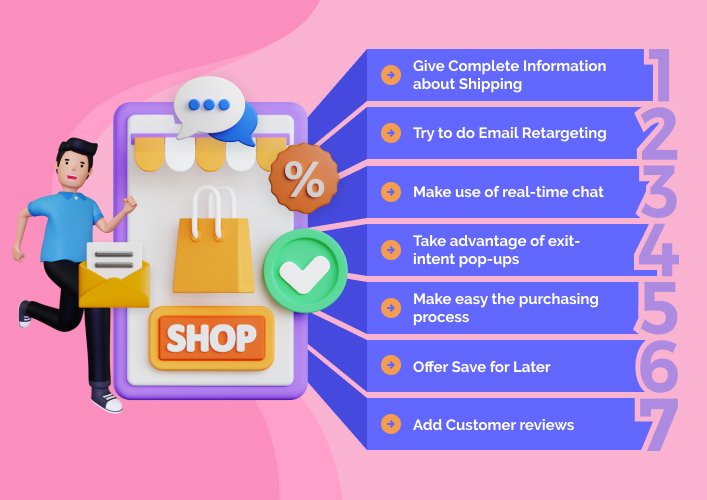 Give Complete Information About Shipping
The high price of shipping is another factor that discourages online purchases. Customers have become used to expecting free delivery on all purchases in this era of Amazon Prime and seasonal sales. If you don't provide free delivery, your rivals will likely gain an advantage over you. Free delivery is a fantastic perk if you can afford it. If you're unable to provide free delivery, at least be transparent about your shipping rates. Include a calculator that takes into account the weight and amount of products to offer an approximate figure of shipping charges, if required.
Try to do Email Retargeting
Email retargeting is a powerful option for combating shopping cart abandonment. When a person opens an email from you, a cookie is placed on the computer so that your adverts will appear on other websites they visit. Customers who have abandoned a purchase might be rapidly won back via retargeting.
Make use of real-time chat
Live chat may be used for order processing and customer service. Customers are less likely to give up on a product when an agent is there to answer their inquiries about it. Integrate a chatting tool for real-time conversations with consumers while they shop. While chatting with a customer, you may utilize information about the goods they've seen, items in their shopping cart, and previous purchases to personalize your responses. Without leaving the conversation, you may promote items and offer discounts.
Take advantage of exit-intent pop-ups
When a person is leaving a website, pop-up displays on their screen. An exit popup will often provide a special deal in the hopes of luring the visitor back to the site. Simply said, exit intent pop-ups detect when a site user is ready to dismiss the window. You can make use of these pop-ups and make it appealing to entice them to stay by offering a discount coupon or free delivery ultimately reducing shopping cart abandonment.
Make easy the purchasing process
Online shoppers are less likely to make a purchase if the transaction takes too long or too many steps. The number of steps required to complete a checkout should be between 2 to 3. You can also integrate a one-tap payment option. In an effort to streamline things, try not to offer them to fill out too many fields in one go. In case, you are not able to cut it short, you can show the progress or responsive flow of the checkout process.
Offer Save for Later
Many people don't complete their purchases because they utilize their shopping carts as wish lists or storage spaces. Instead of forcing them into a shopping cart, let them easily construct a wishlist from which they may make a future purchase. You gain reduced abandonment rates while clients enjoy the convenience of a wishlist that may lead directly to a future purchase.
Add Customer reviews
Customers get tempted by reading the testimonials. Trust is built and they move forward to buy the product. This way you can minimize shopping cart abandonment. Add the reviews on every product page and highlight them in the checkout side section too. Keep one or two reviews as highlighted on the checkout page. You can even use reviews for exit intent popups.
Conclusion
Abandoned shopping carts may have a devastating impact on your online store's revenue. Using the aforementioned ways, you can easily lower your abandonment rate and persuade your website visitors to become lifelong clients. Don't assume that just because a customer doesn't complete a transaction, you've lost the deal. Send abandoned shoppers an email inviting them back to your business so they may finish their purchases. In case you are struggling to convert sales, let us help you out. Book a FREE consultation with our e-commerce experts.
What is the top reason for cart abandonment?
High costs of shipping, tax, and fees are the top reason for cart abandonment.
What is cart vs checkout abandonment?
Cart abandonment occurs in online stores when customers place things in their virtual shopping carts but then abandon them without completing their purchases. In contrast, checkout abandonment happens when a consumer begins the checkout process but does not finish purchasing the products in their shopping basket.
How can Shopify owners reduce shopping cart abandonment?
Make use of real-time chat and take advantage of exit-intent pop-ups to reduce cart abandonment.
What is the rate for abandoned carts?
According to the data collected by Baymard Institutes, the average rate of cart abandonment is 69.99%.
Should you offer a discount on abandoned carts?
The last abandoned cart email you send should provide a discount. Don't provide a discount too soon, since this might be abused by clients.
Shivangi is a passionate Copywriter at Alian Software with expertise in technical copywriting. She shares information that is easy to understand regarding business, technology, and trends.