Image editing and modifying is what this app is all about. When you launch the app, the first thing you'll be prompted to do is choose the image you want to edit. The photos already on your phone may be used, or you can choose one from your album. The app also provides an option for users to choose celebrity photos.
After a picture is verified, it is uploaded to the server where further processing may take place. The app lets users apply a variety of filters to their images. Filters are used for a variety of purposes, including altering one's gender, eye, hair, skin tones, emotions, age, etc. This app uses Neural Face Transformation and AI to analyze a picture of a human face and then apply one of many predetermined filters to it. Those advancements in technology allow for the creation of pictures that are both beautiful and lifelike. The finalized photographs are ready for instant sharing on any social networking site.
Some of the advanced filters come at an additional cost. Furthermore, if you have a paid subscription, you may use the photographs without watermarks. The paid edition removes advertisements and allows you to choose to alter a single face within a group. FaceApp includes fast and dependable processing servers to aid its premium customers.
What are the key features to add to an app like FaceApp?
Some of the features that make the app popular and increase engagement are listed below:
User login: Creating an account and logging in must make it easy for users to use the app in less time and get the best user experience. Thus, make sure that your app can be easily signed in with social accounts like Gmail or Facebook.
Image uploading or capturing: This feature is a must in any app similar to FaceApp. Images should be easily uploaded and clearly captured using the app.
AI-Filters: Filters enabled by artificial intelligence are at the core of these apps. Filters are what allow users to seem younger or older, or even like a different gender, after they have uploaded a picture or taken one in real-time. Thus, you'll need to employ Neural Networks if you want to create a comparable app.
Image editing: Apart from filtering, the app should also have editing options like image adjusting light, contrast, crop, rotate, adding emojis, and more.
In-app purchase: The app can be free to install with some basic features. But, to monetize it, you can have in-app purchases. You can also add some unique and engaging paid filters to encourage users to buy it.
Social media sharing: Furthermore, your app should allow users to share their edited photos on social media, where their friends and followers may see and give feedback.
Image downloading: After editing the photos, users must be free to keep them in the gallery forever.
What would be the cost of developing an app like FaceApp?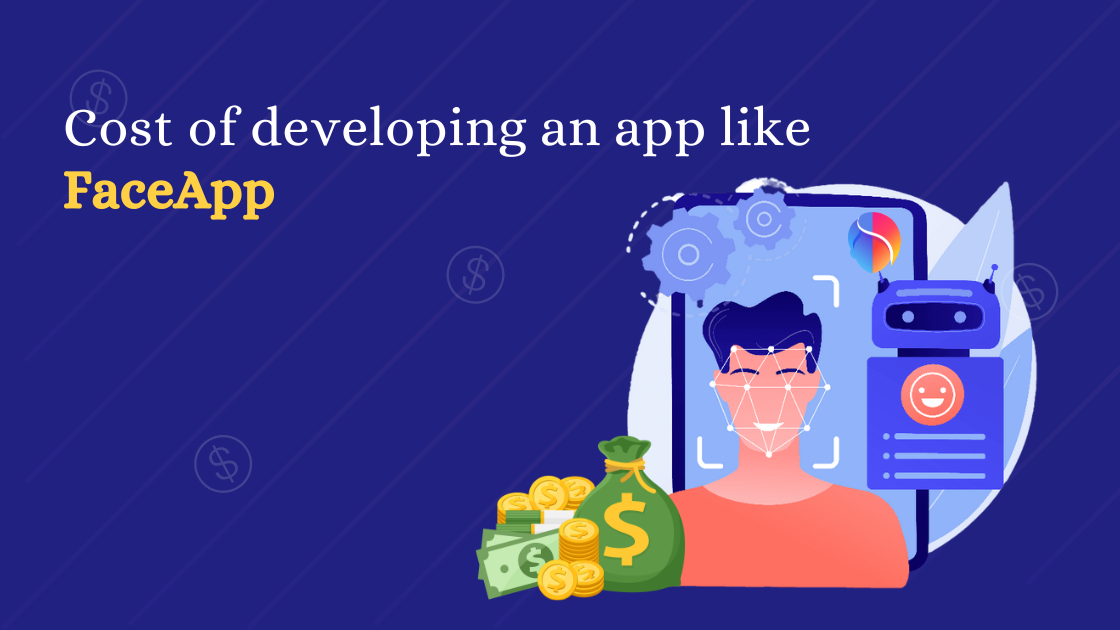 Research and development are required while creating any app. This requires a serious commitment of time and energy. FaceApp development costs will be determined by a number of variables, including the front end, the complexity of the app's backend, the app development company you pick, and the location of that firm.
The more professional and experienced a firm is, the higher their rates will be. Again, the hourly wage will be higher for a corporation located in the United States than in India. Thus, the cost to develop such an AI-filter app would be approximately between $50,000 and $80,000 if the app has all the features and functionality mentioned above.
Conclusion
Developing an AI filter app needs a blend of creative thinking, technological know-how, and a focus on the end user. It lets users add filters and effects to their photographs. However, the legal, privacy, and ethical implications of using such applications must not be overlooked. Lastly, focus on hiring an AI app development firm that is experienced and fits your budget without compromising on quality.
How much does it cost to develop an AI filter app?
The cost to develop such an AI filter app would be approximately between $50,000 and $80,000.
What tech stack can be used to develop an AI filter app?
Swift or React Native, TensorFlow or Python, OpenGL or OpenCV, etc. can be the tech stack.
How to monetize an AI filter app?
There are a number of ways to make money off of an app, such as in-app advertising, a paid subscription model, or a freemium strategy that includes both free and paid versions. Pick a strategy that works with your app's niche market and its USP.
How to stand out in a competitive app market?
Unique features, an intuitive UI, and strong advertising will help your app stand out from the crowd.
How to ensure user privacy and data security of an app?
Use standard procedures for data encryption, storage, and transfer to protect user privacy and sensitive information.
Shivangi is a passionate Copywriter at Alian Software with expertise in technical copywriting. She shares information that is easy to understand regarding business, technology, and trends.