Advantages of custom Laboratory Information Management System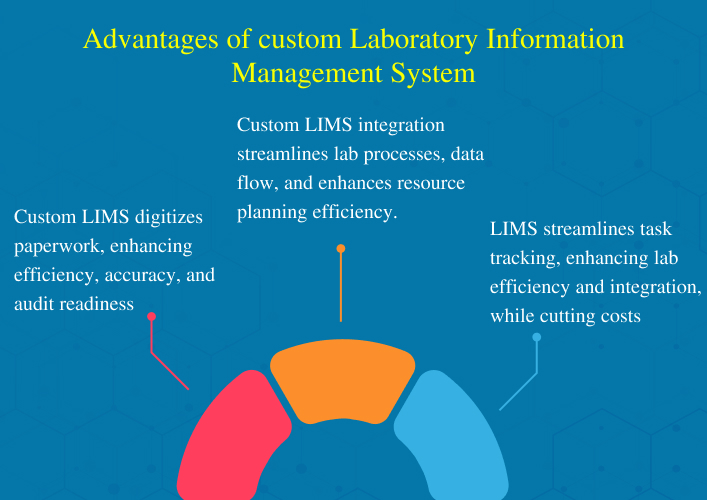 With custom LIMS, all lab paperwork is done digitally, increasing efficiency and ensuring data accuracy. By removing the need for time-consuming manual steps, it speeds up processing times as well. There is no more chance of data loss or false reporting thanks to a Laboratory Information Management System, and regulatory auditors can get their hands on the information quickly.
In order to manage particular processes and facilitate the smooth transmission of data, numerous laboratory devices and apps can be integrated with custom LIMS. It can also be combined with your accounting software and ERP systems to boost the efficiency of resource management and planning.
LIMS allows you to track tasks as they are completed, which speeds up lab procedures. It keeps tabs on all of the operator-assigned jobs in the system. With the help of lab data, systems can be integrated into your lab, speeding up internal operations and reducing operating costs.
Working of LIMS
Anyone planning to use the LIMS must first create an account. Before any report labeling can occur, the subject must first be entered into the software.
All internal entries and processes will start after registration is complete. Several application features begin running, and input data is transformed into analyzed input.
The information required by the system is now complete. The next step is to divide up the data into the appropriate analytical parts. Incorporating all of these resources into the reports will make them more effective.
The approach may be tailored to account for any interdependencies between data provided by various sources at the final stage. Data from multiple tools is checked against the sample data to ensure accuracy.
The data will undergo the complete analytical procedure once again. The loop will continue until it reaches the required limit of validation or if it runs out of the number of tries. Error logs provide the invalidation results.
The Laboratory Information Management System automatically creates reports and sample data is connected. The fully created report is then printed or transmitted along with the entire data of the preceding stages through communication channels.
But, the task is not done yet. The system needs to track all the data entered and analysis performed.
Features to add in a custom Laboratory Information Management System
Below is the list of features to be added to a custom LIMS.
Monitoring of samples: One of LIMS's most essential features is sample monitoring. This feature is meant to automate the process of keeping track of samples as they are transferred across the lab and between different departments. The software will generate a digital trail that precludes human mistakes by generating unique IDs.
Workflow Management: Workflow optimization is a primary function of LIMS. That is how it also saves you time. Automated record keeping eliminates the need for a supplementary method specifically tailored to the maintenance of records. Once the system's framework has been constructed, it may make autonomous judgments and assign work to the most suitable individual on its own. It is capable of overseeing the entire operation without being given specific instructions.
Secured Storage: Standard data storage procedures should be used by every LIMS. Security requirements include not mixing test results with personally identifiable information (PII) and avoiding leaks.
Keeping track of the supplies and devices: It helps to keep sufficient test supplies and chemicals on hand in the lab to avoid delays. The software can send notifications as soon as stock needs to be restocked. Your LIMS can also monitor the state of the machinery and schedule repairs as needed.
Since the technology required to build a Laboratory Information Management System is more complicated, more time is required for its development. Approximate costs range from $20K to $200K over a time frame of 4-9 months.
Conclusion
Laboratory operations, data management, and regulatory compliance may all be greatly improved with the use of a custom Laboratory Information Management System (LIMS). Custom LIMS development has several benefits, including the flexibility to meet the specific needs of a laboratory. You can incorporate it with existing infrastructure, and evolve in response to new demands. Faster decision-making and data-driven insights may be achieved with the use of custom LIMS capabilities like sample tracking, data analysis, compliance management, and report generation.
However, there are obstacles associated with developing a custom LIMS, such as the necessity for extensive planning, resource allocation, and an in-depth knowledge of the laboratory's unique processes and regulatory requirements. Thus, it is advisable to hire an expert healthcare app development company to make the development process simple and quick.
What is a Laboratory Information Management System?
A Laboratory Information Management System is a platform designed to manage, track, and store data related to laboratory samples, tests, experiments, and associated information. It helps laboratories improve data management, compliance, and overall operational efficiency.
Why should a laboratory consider custom LIMS development?
Custom LIMS development allows laboratories to tailor the system to their specific needs, workflows, and regulatory requirements. It ensures that the LIMS aligns precisely with the laboratory's goals and processes.
What are the key benefits of custom LIMS development?
Custom LIMS development offers advantages such as improved data accuracy, streamlined workflows, integration with existing systems, scalability, and the ability to adapt to changing laboratory requirements.
What challenges are associated with custom LIMS development?
Challenges include the need for thorough planning, resource allocation, and a deep understanding of the laboratory's operations. Custom LIMS development can also require a significant initial investment.
How long does it take to develop a custom LIMS?
The timeline for custom LIMS development varies based on the complexity of the laboratory's needs and the scope of the project. It can take several months to a year or more to develop and implement a custom LIMS.
Shivangi is a passionate Copywriter at Alian Software with expertise in technical copywriting. She shares information that is easy to understand regarding business, technology, and trends.