Enterprise App Development
Enterprise app development is the method of creating and releasing a software application tailored to the requirements of a company. Business processes may be streamlined, worker efficiency can be improved, expenses can be decreased, and so on with the aid of an enterprise app. Thus, entrepreneurs aim to create user-centric applications that streamline business processes and improve the interaction between clients, suppliers, and employees.
Enterprise applications can be developed for a wide range of purposes. It includes the management of client interactions, the automation of sales processes, the management of logistics, and so on. Additionally, they may be built to function on several devices or platforms, such as desktop, mobile, and the web.
Managing business with Enterprise App Development
There is a plethora of benefits to firms that put money into creating custom enterprise apps. There is more than one method in which a company might benefit from the creation of enterprise mobile applications. It improves efficiency in the workplace and reduces costs for the business. The capacity to store vast amounts of data is a major benefit of business software development. Massive amounts of information are utilized by businesses, and keeping track of it all in files and drawers is a hassle. Data storage is simplified with corporate applications. Let's look in detail.
Boost Employee Efficiency
With the help of business mobile apps, both workers and companies can easily save and access crucial data. Thus, it doesn't matter where you are. You can access the data anytime anywhere. When information is readily available in a real-time setting, workers may spend less time evaluating and more time producing value. Less time spent on administrative tasks is another productivity booster for staff.
Always up-to-date
Large corporations that rely heavily on deliverymen, engineers, or dispatchers must ensure that their employees can stay in constant contact with one another no matter where in the world they may be. The key to growing a service company is via mobile enterprise app development. Not only do these applications link employees to the business, but they also keep clients informed.
Effective Management
Since all of the data you need is right there in front of you, it makes it much simpler to handle things and decide who is responsible for what. Furthermore, the administrator is able to maintain track of staff, events, and corporate operations. Thus, they can make correct decisions without being misled.
Workflow Automation
Enterprise Apps have the ability to automate operations. You don't require different software and subsequent point-to-point connection. It helps streamline company operations by combining the beneficial functionalities of several programs into a single app. Thus, it improves coordination across different departments and increases the clarity of workflows.
Building an Enterprise application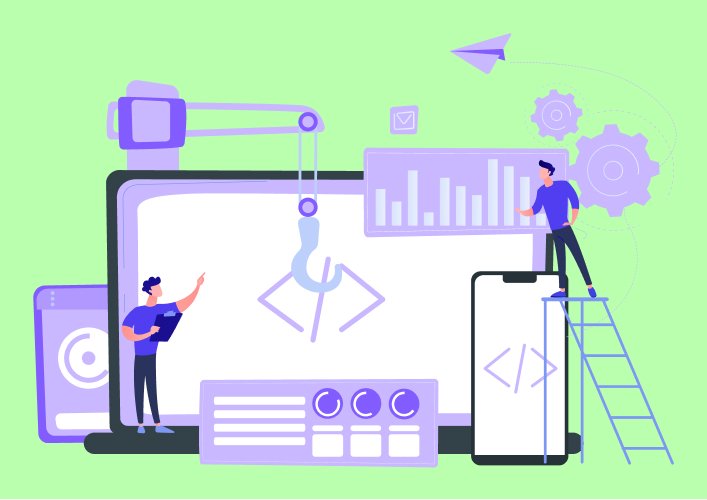 Before beginning the development of bespoke enterprise apps, there are a few aspects that need to be taken into consideration. Firstly, details such as the customers who would use the app, the age range that they fall into, and the nation that you plan to target should be taken into consideration when building corporate applications.
The users should understand features and functionalities easily. Thus, UI/UX must be simple and clear. The app should be mobile-friendly and responsive. Furthermore, it is very necessary to have a secure network system. The growing value of users' data necessitates a robust and trustworthy mechanism for its protection. The risks are substantially higher when financial transactions and data are involved. You need to take care of these things while enterprise app development.
Disadvantages of Enterprise apps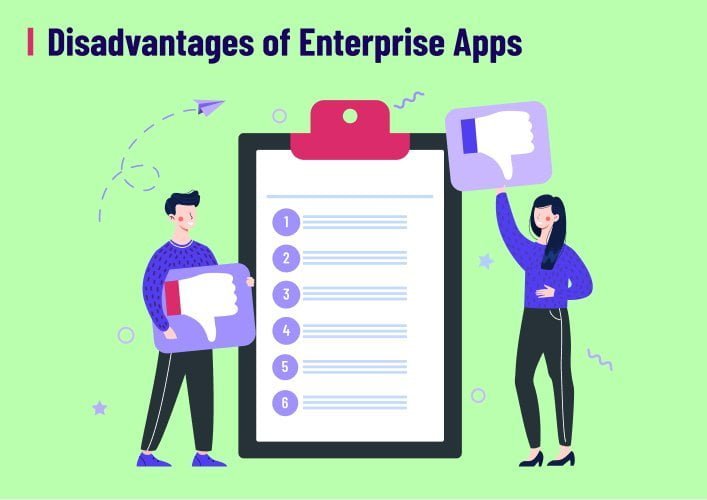 If there are numerous upsides to corporate app development, there are also some drawbacks to think about. Creating enterprise software may be costly, especially if it's a highly complex and specialized program for a business. Expenses like paying programmers, designers, and project managers, as well as the price of regular updates and fixes, might fall into this category.
Integration with existing systems and data sources might increase the complexity of enterprise app development. In other cases, this may call for specific knowledge and abilities that are either hard to come by or need substantial training. Furthermore, enterprise applications need regular updates and fixes to keep working and adapting to business requirements. There may be long-term financial and labor implications for this action. Therefore, hiring a software development company will help you to get rid of the disadvantages listed above.
Best Enterprise apps in the market
Alian Hub: It is an all-in-one solution for your enterprise management. When subscribing to Alian Hub, you don't have to use different software to manage your business. It is a combination of project management, IT, HR management, engineering, administration, sales, and marketing.
Bamboo HR: It has the ability to monitor applications, onboard new workers, and handle payroll. Automation of human resources procedures like onboarding, recruiting, applicant selection, etc., are its key features.
MailChimp: Most people are familiar with MailChimp. It was one of the first and least complicated methods for anyone with zero technical knowledge to set up their own sales email and convert their emails. For local companies, this marketing channel is invaluable
Conclusion
There is a  high demand for enterprise app development at present. Businesses and organizations that have used enterprise applications have reported an increase in profit. Get in touch with us if you'd want expert advice on expanding your business's performance with enterprise app development.
In what ways may developing enterprise applications help your company save time and money?
With the aid of a bespoke enterprise app, you may enhance both company management and customer care. You don't have to buy different software for different purposes. Thus, it helps in saving finance.
How do I pick the best company for enterprise app development?
While selecting a firm to create your corporate app, you should think about a wide range of factors, such as their development approach, budget, number of years in business,  client reviews, etc. Contact us for your complex enterprise app development at an affordable cost.
For what reasons should you contract an outside firm to develop your ERP?
Building an ERP requires access to specialized knowledge of cutting-edge technologies. Thus, contacting an ERP development agency may help you save money, get your product to market faster, and improve its quality.
Which is the enterprise mobile app development platform?
Consider the widest possible audience when selecting an app's platform. The iOS and Android platforms are the most widely used today.
Which is the best enterprise app to use in 2023?
Alian Hub is the best ERP  software to manage your business. It is an all-in-one solution for project management, IT, HR, administration, sales, and marketing.
Shivangi is a passionate Copywriter at Alian Software with expertise in technical copywriting. She shares information that is easy to understand regarding business, technology, and trends.