Benefits of a real estate app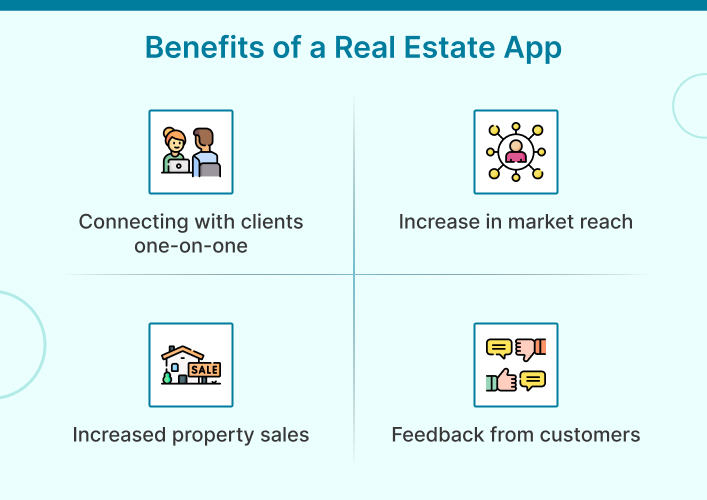 Connecting with clients one-on-one
Interaction between the app and the user enhances the brand's reputation and results in superior service. For this purpose, nothing beats using a real estate application on a mobile device. Brands may have more one-on-one conversations with consumers via them, which in turn boosts service demand and general brand recognition.
Increase in market reach
It's difficult to disagree with the assertion that mobile gadgets now govern society. The apps aid in reaching a wider customer base. Four in ten people looking for apartments will use a mobile device to look for one. Thus, it becomes convenient for users to find a home and the market reach will be increased.
Increased property sales
Sales may be boosted and lead retention can be made much easier with the help of a real estate app. Communicating with customers and keeping them up to speed on the status of their real estate transactions may be accomplished in a number of methods, like emails, in-app chats, push alerts, and so on.
Feedback from customers
The app will make it simple for you to get feedback from customers and monitor the progress of your company in real time. You may count on regular updates detailing potential areas for growth and any existing flaws that need prompt attention. You can outperform the competition and wow your customers by doing this.
Development of a real estate app
You should be prepared to invest time and effort into the real estate application development process as it involves several stages. Since we are an app development firm that offers outsourcing services, we will examine the requirements for developing a real estate app in this way.
Conduct Market Analysis
Knowing your rivals is essential in understanding how to design real estate applications. You shouldn't skip this step since it's crucial. Learn as much as you can about the industry you want to join. Using this data, you may make informed decisions regarding the functionality and design of your app's user interface.
Do some digging into the social media profiles, software, and customer evaluations of your rivals. Knowing the offerings of your rivals will provide you with the insight you need to develop your own distinctive features and selling points.
List Features and Functionalities
It is advisable to develop an MVP (Minimum Viable Product) and define its features as a starting point. Thus, costs can be reduced initially, time to market may be reduced by testing the application, and useful feedback can be used to improve the product. Features should be like sign-in process, property ads, sorting, Maps, budgeting tool, calling and texting, booking a consultation, etc.
Furthermore, push notifications are also a crucial part of every app. New listings, agent communications, deal modifications, and other events may all be communicated to the users.
Development
You may select a development company through Clutch, Upwork, and LinkedIn. A detailed estimate of how much it will cost to create a real estate application may be calculated from the data you provide. Generally, the cost of developing a real estate application may be anywhere from $30,000 to $200,000 and above. However, the actual cost depends on your requirements.
Monetization of a real estate application
Now let's discuss potential revenue streams.
Commercials: Professional advertising is how Zillow and Trulia make money. Because of the way their advertising platform is set up, real estate agents and brokers are able to market themselves directly to customers who are ready to make a purchase.
Subscriptions: The standard adverts that appear in free apps, allowing consumers to disable them with a premium account or in-app payments is a good idea. On the plus side, whether you have free users or paid ones, you still make money. However, this approach necessitates the development of a new transaction model, since it involves the rejection of the monetization model linked to agents' marketing.
Conclusion
You may improve the likelihood of making an app that users enjoy and that meets their real estate requirements by adhering to a well-structured development process, putting an emphasis on user experience, including key functionality, and keeping up with industry developments.
Keep in mind that knowing your audience, making your app useful to them, making it easy to use, and protecting their personal information are all crucial to your app's success in the real estate app industry. You need a solid plan to reach your target consumers and keep them engaged over time, and this plan should include marketing.
What are the key features of a successful real estate app?
A successful real estate app should include features such as property search and filters, high-quality images and videos, detailed property information, location-based services, mortgage calculators, and the ability to contact agents or sellers. In addition, user reviews and ratings can enhance the app's credibility.
How can I monetize my real estate app?
You can monetize your real estate app through various methods, including subscription plans for premium features, in-app advertisements, lead generation for real estate agents, and affiliate marketing with other real estate services. Consider your target audience and app's niche when deciding on a monetization strategy.
How do I ensure data security in a real estate app?
To ensure data security, implement robust encryption protocols, secure data storage, and authentication mechanisms. Regularly update your app to fix security vulnerabilities and educate users about safe practices, such as not sharing sensitive information in chats or emails.
What technologies should I use to build a real estate app?
The choice of technology largely depends on your budget and development team's expertise. You can use native development for iOS (Swift/Objective-C) and Android (Java/Kotlin). Or you can opt for cross-platform development using frameworks like React Native or Flutter. Backend technologies can include Node.js, Ruby on Rails, or PHP.
How can I market my real estate app effectively?
Effective marketing strategies for real estate apps include content marketing, social media advertising, search engine optimization (SEO), email marketing, partnerships with real estate agents or agencies, and leveraging user-generated content and reviews. Additionally, consider running targeted ad campaigns to reach potential users.
Shivangi is a passionate Copywriter at Alian Software with expertise in technical copywriting. She shares information that is easy to understand regarding business, technology, and trends.