Why do we need third-party customer support apps?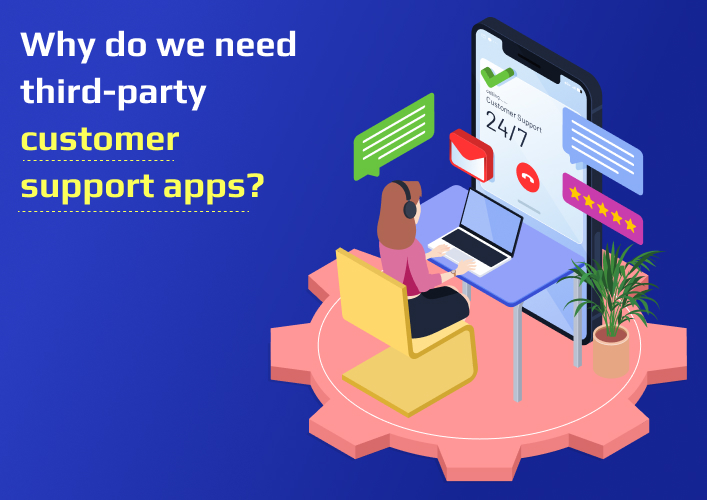 You must be knowing that Shopify offers its free customer service tool known as Shopify Inbox. Shopify Inbox helps in providing chat support manually and managing customers and their queries. However, there are some limitations.
It does not have AI live chat support. Furthermore, you cannot connect multiple stores to it. In case, your customer is from a different region and has another native language, the app is not able to offer translations on the chat. It also doesn't support integration with leading sales channels like Facebook and Instagram Messenger. Therefore, third-party apps can be used as per the requirements of an individual merchant. You can list your requirements and find the right customer support app to integrate with your Shopify store.
Which are the best customer support apps available on Shopify?
Below is the list of 7 top-rated customer support apps available on the Shopify app store. You can use some of them for free or try them through a free trial plan.
Avada
The Avada FAQ/Help Center's integration allows for a sleek FAQ popup for users. It is 5-star rated on the Shopify app store. The app enhances the customer experience, increases conversion rates, and reduces cart abandonment thanks to automation and WhatsApp assistance. Customized WhatsApp contact options decrease response times. Customers would be satisfied and will purchase more because of the integration's order tracking, questions answered in a flash, and individualized attention to pressing issues. LiveChat help through many channels is available around the clock. The app is free to install and use.
Reamaze Live Chat
Improving client involvement is the first step in expanding your company. With the use of AI chatbots and AI-powered live chat, Reamaze increases the likelihood that customers will become loyal repeat purchasers. It connects discussions across channels like email, social media, SMS, and calls, as well as orders, revenue, returns, and even reviews, all in one place. The unified helpdesk inbox and CRM lets you keep in touch with customers and grow your business. Its built-in AI-powered automation and content generators help your team work smarter and respond quicker. It also allows customer feedback forms, update pages, and push notifications.
Richpanel Customer Support
Richpanel is an AI and GPT-4-driven help desk and self-service platform. The AI-driven helper remembers past interactions and automates routine chores, allowing agents to get through more issues faster. Customers may have their most often encountered problems fixed right away by using FAQs. You can schedule and allocate tasks to employees in a way that maximizes productivity. It offers a 14-day free trial and after that, you need to subscribe to any paid plan.
Willdesk
Willdesk streamlines customer support operations like emails, order tracking, live chatting, etc. You can easily handle inboxes from various sales channels and emails through one platform. Furthermore, it can integrate with multiple stores and allows customization for fonts, FAQs, and styles. It offers a free plan and 3 paid plans with advanced features.
HelpCenter
With the HelpCenter app, you can make your customer support experience better. In order to prevent common inquiries from flooding your email, the Help Center makes it easy to set up a customized FAQ page. You can create a 24/7 self-help widget with a knowledge base, frequently asked questions, and order status updates. The app's Live chat and chatbot features ensure that your company is always available to answer queries. The widget also includes order tracking and a contact form for customer assistance. It has a 15-day trial plan and 3 paid plans.
Gorgias
Gorgias is also one of the best customer support apps for rapidly expanding ecommerce businesses. You can maintain a single customer ticket view that incorporates all communication channels including social comments and DMs. Use dynamic macros to pre-populate answers with user-specific data, or make use of self-service sites that give immediate solutions, to speed up the checkout process. Because of this, your support staff will begin acting more like salespeople and significantly boost your company's income.
Zendesk
Using this add-on for Zendesk support and chat, your agents will have instant access to all the data they need to resolve client issues without interrupting ongoing conversations. Agents can now use their time to foster relationships with customers and swiftly address their concerns, rather than wasting it switching between platforms. Having everything you need in one place facilitates quick, relevant, and individual interactions with your clientele.
Conclusion
The ability to provide outstanding customer service is crucial to the success of any online store, and with the correct resources, you can do more than just that. The best Shopify customer support apps discussed in this post have several features to help you improve customer interactions, expedite support procedures, and forge long-lasting bonds with your clientele. In addition to boosting sales and customer loyalty, these applications may help your business expand and thrive in the long run.
What is the best customer support app for Shopify?
The best customer support app for your Shopify store may vary depending on your specific requirements. However, some popular choices include Gorgias, Reamaze, and Willdesk, which offer features like automated responses, multi-channel support, and order management.
Are these apps suitable for small businesses?
Yes, many of the customer support apps mentioned in this blog are suitable for small businesses. They offer scalable solutions that can grow with your business, making them a great choice for businesses of all sizes.
Can I use multiple customer support apps simultaneously?
Yes, you can use multiple customer support apps on your Shopify store simultaneously to address different aspects of customer service. Just be sure to integrate them properly and ensure they work together seamlessly.
Do these apps offer analytics and reporting features?
Some apps provide analytics and reporting features, allowing you to track key performance metrics, monitor customer interactions, and gain valuable insights into your customer support operations.
How can I choose the right customer support app for my store?
To choose the right app, consider your specific needs, budget, and long-term goals. Take advantage of free trials or demos, read reviews, and seek recommendations from fellow Shopify store owners to make a wise decision.
Shivangi is a passionate Copywriter at Alian Software with expertise in technical copywriting. She shares information that is easy to understand regarding business, technology, and trends.