How does a custom order management software work?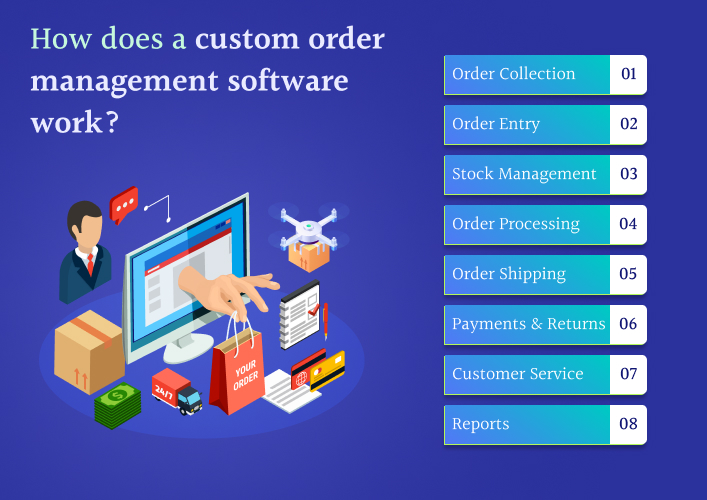 Order management software is used by businesses in the retail industry to streamline and computerize their methods of handling orders placed by customers. But how OMS is used from the time an order is made until it is delivered?
The working of a custom OMS might change depending on the nature of the company it is designed for. However, in general, bespoke order management software operates as follows:
Order Collection
Firstly, the custom order management software collects orders from multiple channels, including online stores, mobile applications, in-store purchases, over-the-phone transactions, etc. Customer feedback, input from sales staff, and the use of digital sales channels are all viable options.
Order Entry
The OMS is updated with collected orders. It's possible to enter orders manually into the system, but more often it can integrate with e-commerce sites, POS terminals, and other sales channels to automate the process.
Stock Management
The OMS tracks stock levels in real-time, making it ideal for use in inventory management. The system makes sure the ordered items are in stock as soon as an order is placed. The OMS may provide substitutes, backorders, or notification of delay if a requested item is temporarily unavailable.
Order Processing
When an order comes in, the OMS analyzes it to figure out where it can be fulfilled most efficiently. Furthermore, it makes documents like shipment labels, packing lists, and packing slips. Factors like shipping fees, transit times, and stock levels may all be taken into account by OMS systems to maximize efficiency.
Order Shipping
Once an order has been packaged, it may be sent and tracked. The OMS may provide the buyer a number of shipping choices or determine the quickest and cheapest one automatically. Thus, customers may check on the progress of their deliveries with the use of provided tracking information.
Payments & Returns
The OMS has to take care of refunds and exchanges, too. Requests for returns from customers will cause the OMS to issue return shipping labels, handle returns, and deal with any associated refunds or swaps. Additionally, the OMS often incorporates payment processing within the OMS. When payment is verified, the order status is changed and the client is charged.
Customer Service
A custom order management software may include built-in tools for customer acquisition and communication with customers, such as sending out automatic purchase confirmation emails, shipment alerts, and order status updates. These help maintain client satisfaction by providing useful information.
Reports
OMS software provides data analytics and reporting features to assist firms in better understanding their order management procedures. This is useful for predicting stock levels, tracking order patterns, and gauging the effectiveness of the business as a whole.
Thus, general OMS doesn't have all the above-mentioned features or may not be tailored to your particular requirements. The primary benefit of custom order management software is its flexibility in meeting the individual requirements of each organization. It may be modified to meet the unique needs of a certain business in terms of order flow, price structure, and functionality.
Conclusion
In conclusion, key advantages of custom order management software include the following:
It can be modified to fit your individual needs, making it ideal for businesses with specialized needs.
As the number of orders and their complexity rise, custom software can simply be expanded to handle the workload.
Custom order management software may be easily combined with other systems like your company's inventory management, customer relationship management, and accounting programs. There will be less room for human mistakes and less time spent entering data thanks to this integration.
Furthermore, automating mundane operations like order input, order tracking, and communication with customers, suppliers, and partners is possible. Time and money may be saved via increased productivity.
Protecting sensitive customer and corporate data from breaches and cyber threats is a top priority when developing bespoke software.
While the cost of developing custom software may be greater than that of off-the-shelf alternatives, the time and money saved by automation of formerly manual tasks more than makes up for the initial investment.
What is bespoke order management software, and how does it differ from off-the-shelf solutions?
Custom order management software is tailored to the specific needs of your business, while off-the-shelf solutions are pre-made and may not perfectly fit your requirements. Custom software is designed to align with your unique processes, offering greater flexibility and efficiency.
What are the key advantages of custom order management software?
Custom order management software offers benefits such as tailored functionality, scalability, integration capabilities, enhanced efficiency, improved accuracy, real-time visibility, customer satisfaction, reporting and analytics, etc.
Is custom order management software suitable for small businesses, or is it only for larger enterprises?
Custom order management software can be beneficial for businesses of all sizes. It can be designed to meet the specific needs and budgets of small and medium-sized businesses while also offering scalability for future growth.
How long does it take to develop custom order management software?
The development timeline for custom software can vary widely depending on the complexity of your requirements. It may take a few months to design and implement a basic system, but more complex solutions could take longer. It's crucial to discuss timelines with your development team.
Can custom order management software be integrated with other business systems we use?
Yes, one of the advantages of custom software is that it can be seamlessly integrated with other essential systems, such as inventory management, CRM, and accounting software.
Shivangi is a passionate Copywriter at Alian Software with expertise in technical copywriting. She shares information that is easy to understand regarding business, technology, and trends.