What are the advantages of integrating a crypto payment gateway in ecommerce?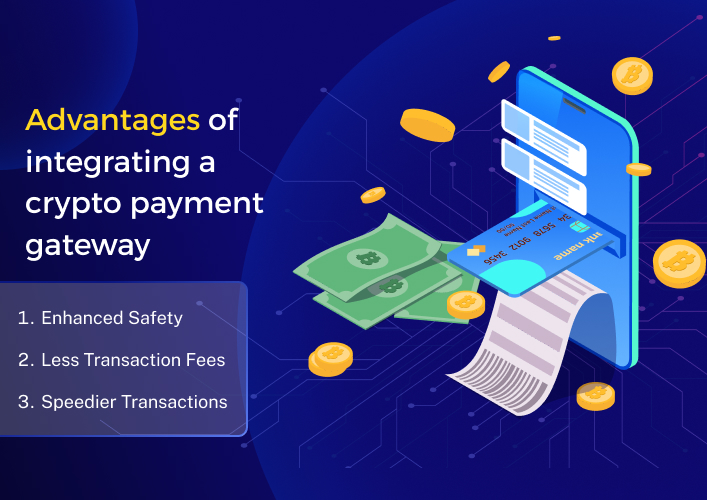 Enhanced Safety: Crypto payment gateways utilize sophisticated encryption in addition to blockchain's security to keep all transactions safe and recorded. When compared to alternative possibilities, this adds another layer of protection. Since blockchain relies on a distributed, decentralized ledger, it is generally believed to be very safe.
Speedier Transactions: The settlement process is streamlined and accelerated on crypto platforms. Blockchains can process transactions very quickly. As a result, companies may be paid for their goods and services considerably more quickly than they could before using these methods. It might take several days for a bank transfer or deposit to be properly completed, delaying the delivery of your items if you're a merchant selling digital products or services via conventional means. Using crypto may help you save a lot of time and effort.
Less Transaction Fees: Cryptocurrency platforms are favored over conventional gateways because of their cheaper transaction costs. Fee reductions are usually good for any business, but they are particularly helpful for those that handle a high volume of transactions. Blockchain-based cryptocurrency transactions not only save you money, but also save you the trouble of dealing with a third party, like a bank or credit card provider, and the associated fees. In the end, this implies cheaper costs for consumers and companies alike.
Which are the best crypto payment gateways?
Here is the list of the best crypto payment gateways to integrate in ecommerce.
Stripe Crypto
Stripe is an industry-leading crypto payment gateway. Stripe's extensive fraud protection and authorization optimization capabilities are especially useful for businesses exploring new payment methods, such as those in the Bitcoin sector.
Stripe Identity verifies your identity in over 30 countries and enables you to easily connect any US bank account for currency payments. The platform makes it easy to accept cryptocurrency payments and connect your company, whether you're a startup or an established service provider.
Crypto.com
For accepting cryptocurrency payments, one of the finest options is Crypto.com, which has been around since 2014. It is the most popular app for exchanging and spending digital currencies. Furthermore, Crypto.com is rapidly expanding internationally and is available in many countries. It's also one of the safest cryptographic infrastructures out there. Over twenty different cryptocurrencies, including Bitcoin, Ethereum, Dogecoin, etc., are now accepted on Crypto.com.
Additionally, users of Crypto.com are eligible to get incentives for their usage. You may increase your chances of receiving rewards by using it often. If you have a crypto visa card, you may save 5 percent on purchases by using it.
CoinBase Commerce
Over a hundred different nations use Coinbase Commerce, making it one of the most popular and accessible crypto payment methods. About $309 billion is exchanged each quarter on the marketplace. Coinbase accepts a wide variety of cryptocurrencies, such as Bitcoin, Ethereum, and Dogecoin.
It has a highly protected safe that is very difficult to get into, therefore your money is safe there. The FDIC also insures any cash transactions above $250,000 for peace of mind. Because of this, Coinbase is the most reliable crypto payment processor.
BitPay
BitPay is a Bitcoin wallet and exchange platform. It's a service that facilitates the exchange of cryptocurrency for fiat currency. What makes BitPay superior than similar services? Setting it up is a breeze. Payment buttons, a checkout page, and invoice embedding are all features it offers. It simplifies the process of making a payment.
BitPay eliminates the risk of chargebacks, guarantees that you will get the full amount you request, and safeguards you against the fluctuating value of cryptocurrencies like Bitcoin.
Strike Commerce
Payments made using Strike are processed and settled via the system's in-house API. It can put you in touch with people all around the world and accept payments in a number of different currencies and digital tokens.
It costs nothing to process a transaction. It's simple to set up with Shopify, but there is a review and approval procedure before you can begin receiving payments via Strike. You have to join the Strike waitlist before you can get your API.
Conclusion
There are a number of advantages that can be gained by companies as well as users by including a cryptocurrency payment gateway into an online shopping platform. These benefits include a higher level of security, a decrease in the costs associated with transactions, an expansion of the client base, and an improvement in the speed of transactions. E-commerce companies who want to improve their operations and the customer experience should strongly consider this option because of the potential advantages, despite the fact that it is not without its problems.
What cryptocurrencies are commonly accepted by e-commerce businesses?
Bitcoin and Ethereum are the most widely accepted cryptocurrencies, but some businesses also accept popular altcoins like Litecoin, Bitcoin Cash, and Ripple. The choice of cryptocurrencies depends on the payment gateway and the preferences of the e-commerce store.
Are cryptocurrency transactions secure for e-commerce?
Yes, cryptocurrency transactions are highly secure due to their decentralized and encrypted nature. However, it's essential for both merchants and customers to follow best practices in wallet management and security to ensure the safety of their assets.
How does integrating a crypto payment gateway affect accounting and tax compliance for e-commerce businesses?
Cryptocurrency transactions may introduce complexities in accounting and tax compliance. Merchants must keep detailed records of crypto transactions and consult with tax professionals to ensure they are following relevant tax regulations in their jurisdiction.
Can customers easily convert cryptocurrency back to traditional currency?
Yes, many cryptocurrency payment gateways offer seamless conversion services, allowing customers to convert their cryptocurrency into fiat currency if they wish. This feature provides convenience and flexibility for users who may not want to hold onto digital assets.
What are the risks associated with cryptocurrency payments in e-commerce?
Cryptocurrency markets can be volatile, which means the value of digital assets can fluctuate significantly. Merchants may face the risk of their holdings decreasing in value after a sale. Additionally, there is always the potential for fraud and security breaches, so it's essential to implement robust security measures.
Shivangi is a passionate Copywriter at Alian Software with expertise in technical copywriting. She shares information that is easy to understand regarding business, technology, and trends.