BigCommerce vs Shopify – Pricing
The monthly fee of a plan is the most crucial aspect of e-commerce platforms from a financial perspective. Credit card fees and other transaction expenses are additional considerations.
Let's compare the monthly plan rates of Shopify and BigCommerce. The monthly subscription plan of Shopify starts from $29 per month to $299 per month with a 25% saving on an annual plan. Similarly, BigCommerce offers monthly plans from $29 to $299 with 25% savings. Thus, both are on the same level – Draw.
BigCommerce vs Shopify – Ease to Use
Both BigCommerce and Shopify have a streamlined admin panel and an intuitive interface for creating and managing online stores.
However, Shopify is more user-friendly than BigCommerce. BigCommerce's capabilities are better suited for advanced users, while non-tech users should look for Shopify. While Shopify may be a less complex platform, you won't be left to figure everything out on your own.
Shopify makes it easy to add items to your store by having you fill out a short form for each one. BigCommerce, on the other hand, has more robust capabilities for making sales, but it has a larger learning curve.
Thus, due to its user-friendliness, Shopify has surpassed BigCommerce as the platform of choice for new online merchants. BigCommerce has more features, but it's more difficult to learn how to use it effectively.
BigCommerce vs Shopify – Themes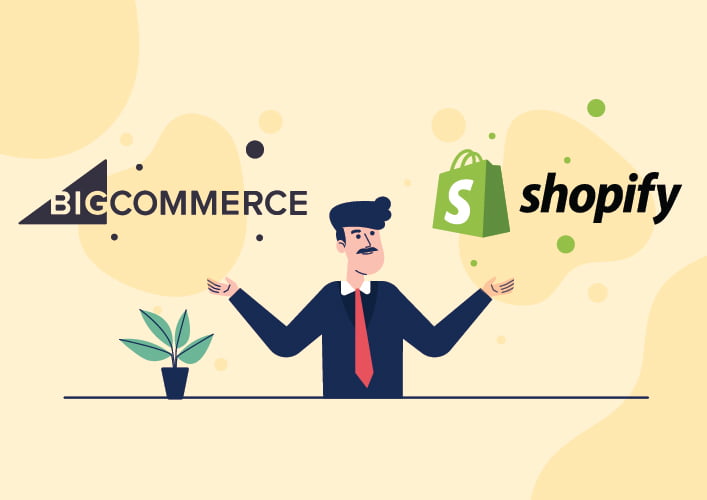 There is a limited selection of free themes available on both. Using one of Shopify's free themes will reduce the number of customizations you need to make. A small firm might really benefit from using a free theme.
However, most moderately-to-large sized internet shops will rapidly outgrow these fundamental layouts and need a more advanced, professionally-designed premium theme.
BigCommerce provides more options for designing eCommerce stores than Shopify, but there's no denying that Shopify's templates provide a greater degree of originality than those offered by BigCommerce. If you're prepared to put more effort, BigCommerce offers an incredible degree of customization.
BigCommerce vs Shopify – Sales factor
BigCommerce has many built-in sales functionalities like shipping tools, SSL certificates, ratings and reviews, many staff accounts and multichannel selling.
Furthermore, due to BigCommerce's connection with Walmart, BigCommerce merchants can instantly begin selling items on the Walmart Marketplace. On the other hand, Shopify has multichannel selling and you can integrate third-party apps from the Shopify app store to maximize its sales potential.
Apart from the monthly subscription plan, you need to pay for the other sales app that can cost you $50 to $100 per month. Some Shopify apps are also available for free but with limited features. Thus, BigCommerce is superior to Shopify in terms of sales since it has a greater number of built-in features.
BigCommerce vs Shopify – Marketing
Some of the in-built features for marketing in BigCommerce are automatic sitemaps, SEO(meta title, description, URLs), discount code creation, etc. You can also enjoy the feature of automatically sending abandoned cart recovery emails with BigCommerce's advanced plan.
On the other hand, Shopify also has SEO features, custom URLs, automatic sitemaps, product performance analytics, etc. With advanced Shopify, you can get profit or sales reports. Thus, it's a draw. Both platforms have the finest features of marketing.
BigCommerce vs Shopify – Advantages and Disadvantages
Pros and cons of Shopify: There are many unique theme options available for Shopify. Thus, you don't have to work more on designing. Furthermore, it has a big apps store with 1300+ useful third-party apps. It is easy to use and organize. But, you need to add third-party apps in case you want to sell internationally. There are no built-in features for multi-currency. Additionally, if you are not using Shopify Payments, you need to pay transaction fees for integrating other payment gateways. In case, you want to change the template of your Shopify store, you will need to re-build your Shopify store
Pros and cons of BigCommerce: It is suitable for both small and medium-sized businesses. It is more scalable as you can create unlimited product variants. Furthermore, it doesn't charge any transaction fees and has strong SEO features. But, BigCommerce's learning curve is large. Furthermore, there are no multi-language features to sell internationally.
Conclusion
Both platforms have their own benefits. Choose BigCommerce if you want to use amazing built-in sales features without adding third-party apps and do multichannel selling. On the other hand, use Shopify if you have a large business and inventory and want to upscale sales with third-party apps or plugins. Set up your Shopify store now by yourself or with the help of our Shopify experts.
Is BigCommerce the same as Shopify?
No. Both are different e-commerce platforms with different beneficial features. Shopify is mostly used by large businesses whereas BigCommerce is used for large businesses who only sell online.
Is BigCommerce good for beginners?
Yes, BigCommerce is the best option for small businesses or startups.
Is Shopify Payments good?
If you use Shopify payments, you don't need to pay any transaction fees on Shopify.
Is Shopify good for large inventory?
Yes, it has a better inventory management feature making it perfect for large inventory businesses.
Do I need an expert to build Shopify or BigCommerce store?
No, you don't need to be a tech expert to develop a store on Shopify or BigCommerce. However, if you want to add special functionality or customize your eCommerce store, you will need the help of an expert.
Shivangi is a passionate Copywriter at Alian Software with expertise in technical copywriting. She shares information that is easy to understand regarding business, technology, and trends.