Which are the best free Shopify themes?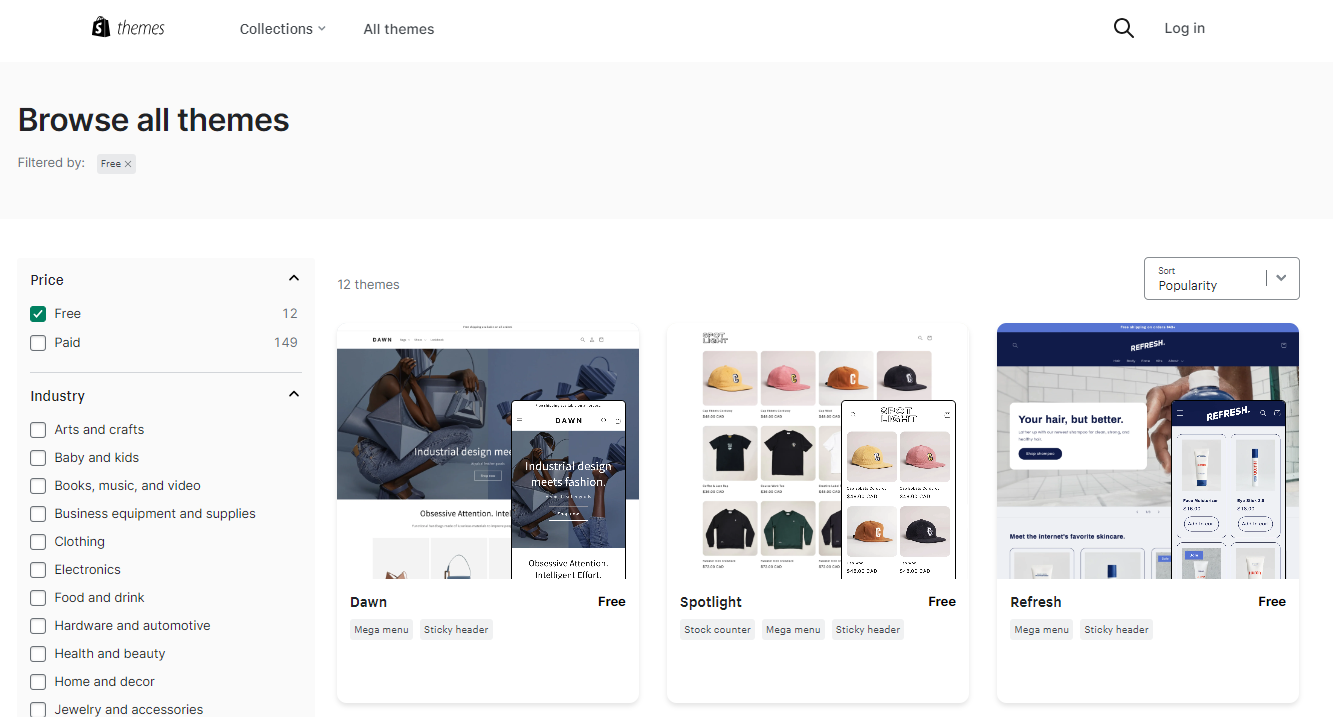 While choosing a theme for your Shopify store, you need to look for the following:
Each Shopify theme has its own collection of tools to help you sell and promote your products. What are you hoping to accomplish with your store's current theme? Filtering products, menus on the side, mega menus, etc., will all fall under this category.

Furthermore, your shop's 'look and feel' is the sum total of its theme's individual layouts. Thus, choose the theme that allows customization for product pages and collection pages. Below are the finest free Shopify themes that have different features and functionality.
With the Publisher Shopify theme, creative spaces and boutiques may showcase a carefully chosen collection of products including books, clothes, and accessories. The theme emphasizes visual storytelling. The speed of setup makes it ideal for companies seeking to provide a cutting-edge shopping experience while efficiently exhibiting their items. You can create a unique home page by rearranging elements like the highlighted products, picture galleries, and blog entries.
It has a sidebar menu that slides out to provide users with a streamlined browsing experience. Lastly, it has product filtering features that provide a good user experience for shoppers in quickly discovering what they need by setting parameters such as price, color, and size.
The theme supports high-resolution images with scrolling previews and zooming capabilities. The mega menu at the top of the page helps customers find certain categories and sub-categories of items and collections with ease. You may also easily find what you're looking for by utilizing the collection pages' filtering and sorting options. They also make it easy to purchase on the go, thanks to a fully responsive design.
Furthermore, you can make comprehensible descriptions of your food products by including pull-down menus for details such as ingredients, serving sizes, and dietary restrictions.
The Origin Shopify theme is perfect for companies that concentrate on exhibiting items with outstanding graphics, like art, photography, or fashion, because of its clean and minimalist design and user-friendly interface. The style and functionality are adapted to different screen sizes. It allows for more nimble site navigation by providing both a traditional horizontal menu and a slide-out sidebar menu. The high-resolution photos, videos, and interactive accordions make highly enticing stores. Lastly, improve your store's AOV with product suggestions.
If you own a company and want to sell your wares in a classy, cutting-edge online space, you should check out the Studio Shopify theme. Studio's potent features provide for an easy and enjoyable buying experience. Thus, it makes it one of the best free Shopify themes. The theme's responsive style is optimized for viewing across a wide range of devices, from mobile phones to desktop computers. One of the most notable functions is the "lookbook" option, which lets companies create mood boards or groupings of products that are easily shopable.
Theme support for a video to play on the homepage means you may use this feature to attract users and tell your brand's story in an interactive fashion. Furthermore, it includes a slideshow that you can use to display your goods, promotional information, or brand graphics in a visually appealing and engaging way. This theme was developed using SEO-friendly code, which can boost your site's visibility on search engines.
Taste is a beautiful Shopify theme made for businesses that want a modern, minimalist appearance. Its modern design is ideal for websites specializing in handcrafted goods or other things of exceptional quality. It is one of the best free Shopify themes available. It allows high-resolution photos, image galleries, and image zoom to make for visually engaging product sites.
Spotlight is a state-of-the-art, aesthetically pleasing Shopify theme that puts your items and brand in the limelight. With this design, organizations can make a striking visual statement by using huge, high-quality photos. Spotlight is a great option for businesses who want to communicate a powerful visual narrative because of its basic theme and clean, professional style.
Spotlight's layout is totally responsive, so it looks great and works well on desktops, laptops, tablets, and smartphones. Furthermore, the theme layout is centered on huge, high-resolution photographs, making it an excellent choice for showing both products and lifestyle photography.
Conclusion
Selecting the right theme is crucial for the success of your Shopify online store. While these free Shopify themes offer a good starting point, remember that customization and unique branding are essential for setting your store apart. The best theme for your store depends on your specific needs, product range, and design preferences. It's important to test and explore these themes to determine which one works best for your business.
Can I switch themes after I've set up my Shopify store?
Yes, you can switch themes at any time without losing your content or products. However, you'll need to customize the new theme to match your branding and design preferences.
Are free themes as good as paid ones?
Free themes are a good starting point for many online stores but paid themes often offer more features, better support, and greater customization options. The choice depends on your budget and specific needs.
How do I customize a Shopify theme?
You can customize your Shopify theme through the Shopify theme editor. It allows you to modify colors, fonts, layouts, and more. Advanced customizations may require some coding knowledge or the help of a developer.
Do these free themes support mobile responsiveness?
Yes, all of the themes mentioned in the list are mobile-responsive, which means they adapt to different screen sizes and devices for a seamless user experience.
Can I add third-party apps to these themes?
Yes, you can enhance the functionality of your Shopify store by adding third-party apps. Most themes, including free ones, support app integrations.
Shivangi is a passionate Copywriter at Alian Software with expertise in technical copywriting. She shares information that is easy to understand regarding business, technology, and trends.