Which are the Free WordPress plugins available?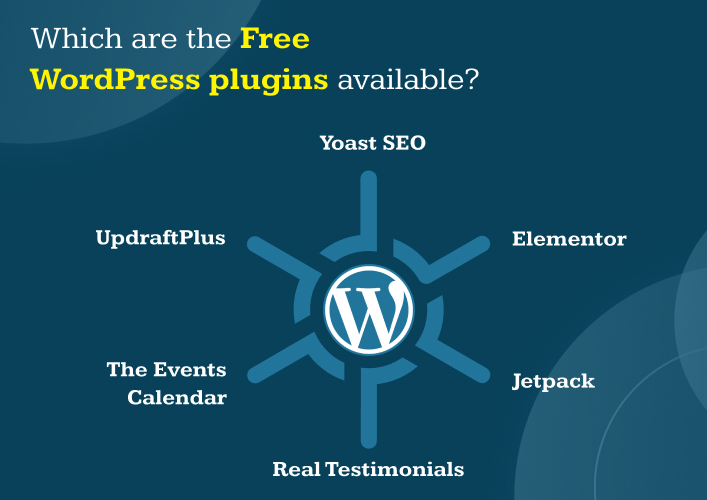 There are more than 59,000 add-ons(plugins) available for download and usage. Below are some useful free WordPress plugins that you must have on your website.
It is one of the most useful free WordPress plugins. SEO is crucial as it may provide a return on investment (ROI) on the amount spent on marketing. In terms of search engine optimization plugins, Yoast SEO is the most well-known, and for good reason. It provides all the tools you need to optimize your content for SEO and readability, allowing you to satisfy all the SEO standards and regulations. 
It achieves this with the help of a simple traffic-light wizard that indicates which parts of your site are 'green' and which require improvement. The layout is simple enough that even a newbie may understand it. This facilitates the identification of areas for development. You may also look at SEO guides that detail the steps you need to do. The plugin can also detect broken backlinks, giving you the opportunity to repair any problems with your site's internal linking structure. In addition, Yoast generates XML sitemaps that help search engines better comprehend your site's hierarchy.
Lastly, the Yoast SEO plugin works with Elementor, Semrush, and Zapier, among other prominent apps. The Free Yoast package includes all of the features necessary to improve your site's search engine rankings. The premium edition of Yoast, which includes keyword optimization and other benefits, costs $99 per year.
Elementor has offered drag-and-drop and WYSIWYG editing for WordPress users. WordPress's design has traditionally been a bit more clumsy. You may have been asked to alter the site's theme through a widget in the sidebar, for instance. Alternatively, WordPress users would need to modify their websites by tampering with the CSS code in order to make more creative web design modifications.
Thus, Elementor plays an important role here. There are more than 90 widgets available for use with this page builder plugin. Pixel-perfect design lets you drop in items precisely where you want them. It also has an easy-to-use form builder that can be used to create many types of forms (contact forms, opt-in forms, etc.). This makes Elementor one of the most popular free WordPress plugins.
The essential basic functionalities of Elementor are all included in the free version. Theme creation, custom CSS, WooCommerce support, popups, and forms, and the ability to assign roles need a paid upgrade.
If you use WordPress, you should definitely check out Jetpack. It is one of the useful free WordPress plugins that serves several purposes, including security, optimization, and advertising. You can prevent attacks, optimize pictures, delay unused scripts to speed up page loads, monitor user activity, and more with Jetpack. Additionally, using it is a breeze for nontech individuals.
With Jetpack, you'll have centralized control over your site's safety and functionality. You can use lazy loading to have images appear when the page is scrolled down. It offers protection against hackers using brute force. Jetpack Security provides round-the-clock website protection, along with simple, automatic backups and restorations. It can search for viruses, block spam, and keep tabs on your system's uptime.
With Real Testimonials, you can embed user quotations and testimonials directly into your blog posts and web pages. Showcase these reviews with sections for the reviewer's name, stars, picture, and title, all of which may be modified to suit your needs. In addition, you may tailor the look and feel of the field's content with its own set of choices.
Real Testimonials is one of the most effective and widely used free WordPress plugins. The premium edition includes a drag-and-drop form builder and a variety of picture styles for user testimonials, among other customization options.
The Events Calendar is a convenient tool for creating and maintaining a site calendar. Each date and schedule may be altered to better fit your requirements. This plugin also includes a calendar widget for viewing future activities. In this approach, your website may serve as a constant source of information for your visitors.
The Events Calendar add-on provides the tools necessary to organize one-off gatherings. Creating recurring events and selling tickets requires either the premium edition or additional add-ons, both of which may be purchased separately.
You certainly don't want to risk losing all of your hard work and progress. UpdraftPlus, one of the many free WordPress plugins, serves as a safety pack in case something goes wrong. For WordPress sites, UpdraftPlus claims to be 'The World's Most Trusted WordPress backup, restore, and clone plugin.'
It enables you to save your data in a remote place and create automated backups to send to services like Google Drive, FTP, email, and Dropbox. The dashboard also makes it simple to restore your site from a previous backup. Additional premium features include enhanced reporting, encrypted databases, and cloud storage options including OneDrive, Azure, and SFTP.
Conclusion
While all of the recommended plugins in this article will help your site in some way, the precise mix that works best for you will be unique to your situation. Keep in mind that installing too many plugins might slow down your site or cause compatibility difficulties, so use them sparingly. Updating your plugins on a regular basis will ensure that you have access to the most recent features and security fixes. Keep your WordPress site's security and speed in mind at all times by installing only reputable and high-quality plugins.
Are free WordPress plugins safe to use?
Most free WordPress plugins in the official repository are safe to use. However, it's crucial to choose plugins with a good reputation, high download counts, and regular updates. Always keep your plugins updated to patch any security vulnerabilities.
How do I install a WordPress plugin?
To install a WordPress plugin, go to your WordPress dashboard, navigate to the Plugins section, click "Add New," and then search for the plugin you want. Once you find it, click "Install" and then "Activate" the plugin.
Can I use free plugins for e-commerce on my WordPress site?
Yes, there are free e-commerce plugins available for WordPress, such as WooCommerce. These plugins offer a range of features for creating online stores. You may need to purchase premium extensions for additional functionality.
Are there alternatives to the recommended plugins?
Yes, there are often alternative plugins for specific functionalities. You can explore other options in the WordPress plugin repository or consult with your web developer or community for recommendations.
Do I need coding skills to use these plugins?
Many free WordPress plugins are designed for users without coding skills. They typically offer user-friendly interfaces, making it easy to configure and customize your site's features. However, some advanced customization may require coding knowledge.
Shivangi is a passionate Copywriter at Alian Software with expertise in technical copywriting. She shares information that is easy to understand regarding business, technology, and trends.