Benefits of QR code generator apps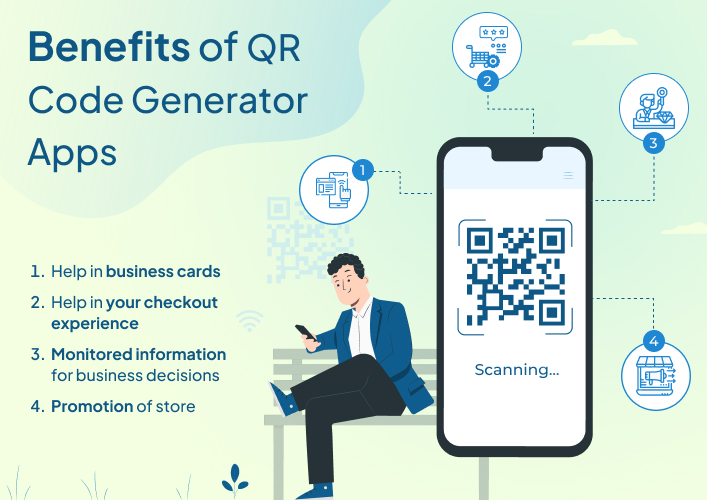 QR codes provide several advantages to both businesses and consumers. Some of the major advantages are as follows:
Customers may scan a QR code to instantly be sent to a page with more information about a product or a deal without having to click or remember a long URL.
The ability to customize a Shopify QR code to reflect a store's aesthetic makes it an effective promotional tool.
The number of scans and conversions made with Shopify QR codes may be monitored with the QR code generator apps, giving valuable information for business decisions.
You can use Shopify's QR codes on print advertisements, business cards, and product packaging to direct visitors to your online shop or a specific product page from any location.
You can easily integrate sales through QR codes into the conversion panel with these apps.
The app can also help in simplifying your checkout experience.
Best QR code generator apps available on the Shopify app store
You will need to add a QR code generator app to your Shopify shop in order to create codes. Using this application, you can create and share QR codes with everyone. Finding the best QR code-generating app may take some time. Therefore, here are the top apps available on the Shopify app store.
QR Code Generator Hub
To power your offline-to-online sales and marketing, QR Code Generator Hub is a useful app. It is a very easy-to-use and effective tool. Dynamic QR Codes may be made, scanned, and tracked without restriction with this app. Furthermore, you can include your company's branding for a personalized touch.
Discount coupons, shopping links, and individualized behaviors may all be included in your conversion funnel. More advanced features include ticketing, upselling, monitoring sales, QR codes produced by orders, and more. This app has gained a 4.9-star rating on the Shopify app store and has a free plan available. You need to pay to use the advanced features.
Yanet: Retail Barcode Labels
This barcode label app is ideal for anybody in need of a reliable, user-friendly method of designing and printing barcode labels for their products. Various barcode and non-barcode formats are supported. A professionally designed label may help you increase consumer recognition of your brand and streamline other processes. Furthermore, no coding experience is necessary. This app has gained a 4.8-star rating on the Shopify app store and offers a free plan too.
Super QR Codes
Learn how to maximize QR codes' sales-boosting and customer-pleasing potential. This app allows easy product promotion, collection showcasing, streamlined checkout, coupon distribution, and URL rerouting. You can improve customer interaction in-store and streamline advertising to make shopping easier. Intuitive understanding of the meaning of the QR Codes and their potential uses.
Easily build QR codes that catch customer's attention. Make changes to your QR codes at any moment after printing them by using this tool. Build a great shopping experience with pre-filled shopping carts. Track the success of your QR codes to receive engagement information.
QR Code Generator Releasit
You can generate QR Codes with completely editable designs (including fonts, colors, frames, and links) and connect them to anything in your shop's navigation. Improve your clients' after-purchase experience by including QR Codes on bills, packing slips, and emails with the help of automatic QR Codes. It is possible to alter the intended recipient of any printed QR Code with Releasit.
Conclusion
In conclusion, integrating QR code generator apps into your Shopify store can enhance your marketing efforts and provide a more interactive and convenient shopping experience for your customers. By choosing the right app and customizing your QR codes effectively, you can leverage this technology to boost engagement and sales. Be sure to explore the apps available and consider the specific needs of your business when selecting a QR code generator app for Shopify.
Are these QR code generator apps free?
Some of these apps offer free plans with limited features, while others may require a subscription or one-time purchase for more advanced functionality. Be sure to check the pricing details within each app.
Do I need technical skills to use these apps on Shopify?
No, most QR code generator apps on Shopify are designed to be user-friendly, with intuitive interfaces that don't require technical expertise. You should be able to use them without much difficulty.
Can I customize the appearance of QR codes to match my brand?
Yes, many of these apps allow for customization of QR code design, including color, logo placement, and more. This can help maintain consistency with your brand identity.
Do these apps provide analytics for tracking QR code performance?
Some apps, like Qify, offer analytics features that allow you to track how many times your QR codes are scanned. This data can help you assess the effectiveness of your QR code campaigns.
Are there any QR code generator apps specifically for Shopify Plus users?
While some apps may offer additional features for Shopify Plus users, most QR code generator apps are available to all Shopify users. It's always a good idea to check the app's documentation or support for specific details.
Shivangi is a passionate Copywriter at Alian Software with expertise in technical copywriting. She shares information that is easy to understand regarding business, technology, and trends.