Why is a popup on Shopify store important?
You can boost conversions, interaction, and email subscribers with a popup on Shopify store. Several of the following explains why:
A popup may aid in list building by encouraging users to provide their email addresses in return for a discount or free resource. This will allow you to follow up with interested users through email. Furthermore, you can conduct more focused marketing campaigns.
Profits may be boosted by using a pop-up to advertise a time-sensitive deal. You can also feature a best-seller to customers who would not have made a purchase otherwise.
Pop-up windows with useful information, like shipping information or a new promotion, may enhance the user experience. It delivers extra value to consumers and helps in building trust.
It helps in reminding users of the things they have in their carts to minimize shopping cart abandonment. Furthermore, you can use a popup to give a discount to encourage customers to check out. When done well, a popup on Shopify store may increase conversions, acquire leads, and enhance the shopping experience for your customers.
Which are the types of popup on Shopify store?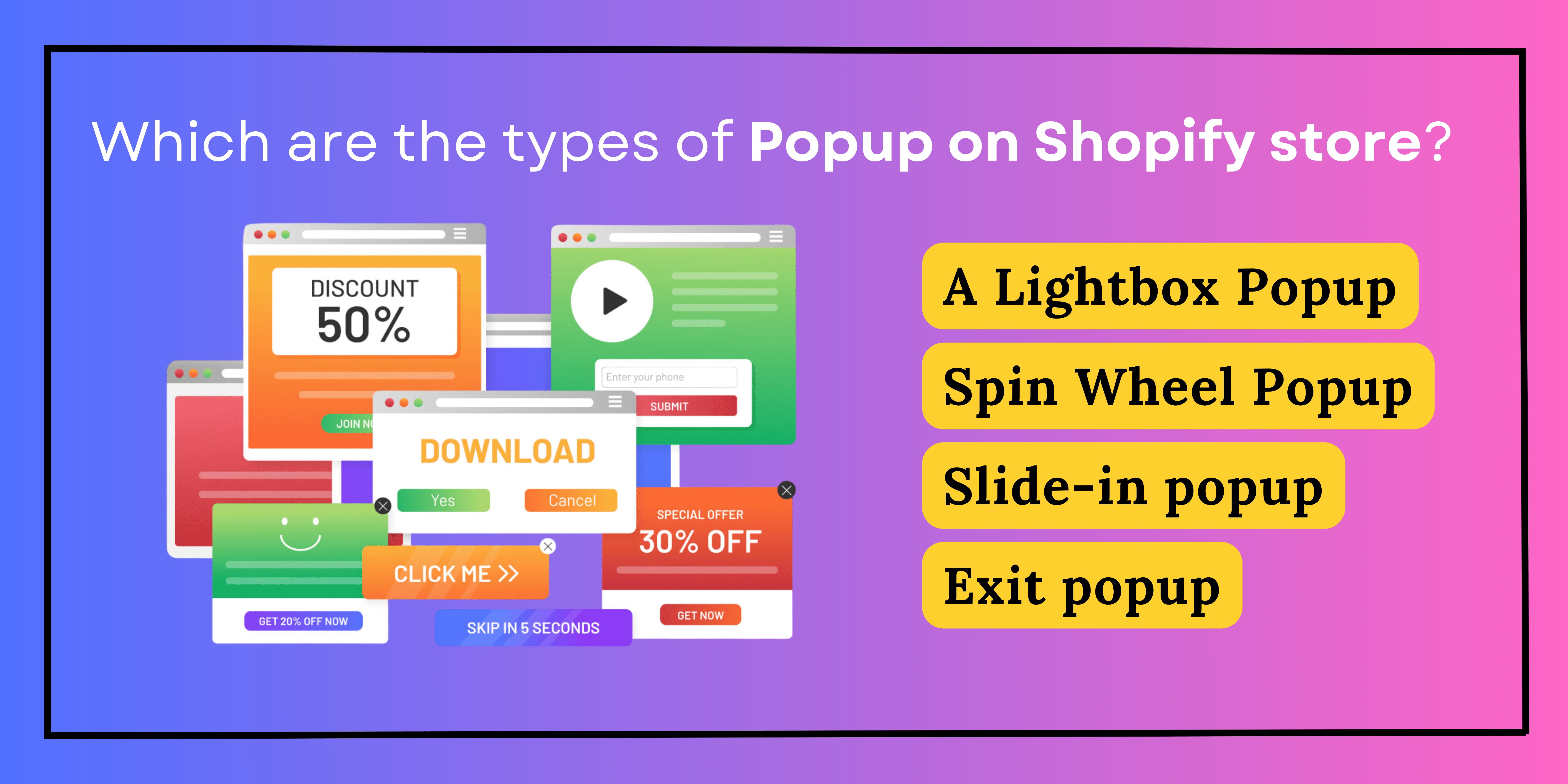 I guess you understood the purpose of using a popup on Shopify store. Let's move further into the popup types you can use on your Shopify store.
A lightbox Popup
A lightbox is a type of popup you will notice in many eCommerce sites in which the background gets dimmed. This encourages purchases as it gives a wonderful effect. You can offer discounts, or subscribe by a newsletter popup to ask for email addresses. In such popups, you only have to fill in one field. Thus, it is most liked by users. You can use live images or make them creative to attract visitors to fill the field of the popup.
Spin Wheel Popup
Spin wheel popups mostly cover the whole screen. In this, visitors spin the wheel and get the rewards. It is like a game thus, it helps in increasing the interest of the users. You can add discount coupon codes, vouchers or prizes. Such popups encourage users to buy something after winning the reward.
Slide-in popup
Slide-in popups are more user-friendly than other popups since they don't block the consumer's view of the page's main content. You can maximize conversion rates with these popups. You can trigger them to pop on click or entry or scroll. Furthermore, you can make it creative that reflect your brand's image.
Exit popup
These popups are designed to minimize cart abandonment. An exit popup triggers when a user tries to exit the store without buying. You can make it attractive or offer discount codes to tempt users to perform necessary actions.
Which are the top 5 Shopify popup apps?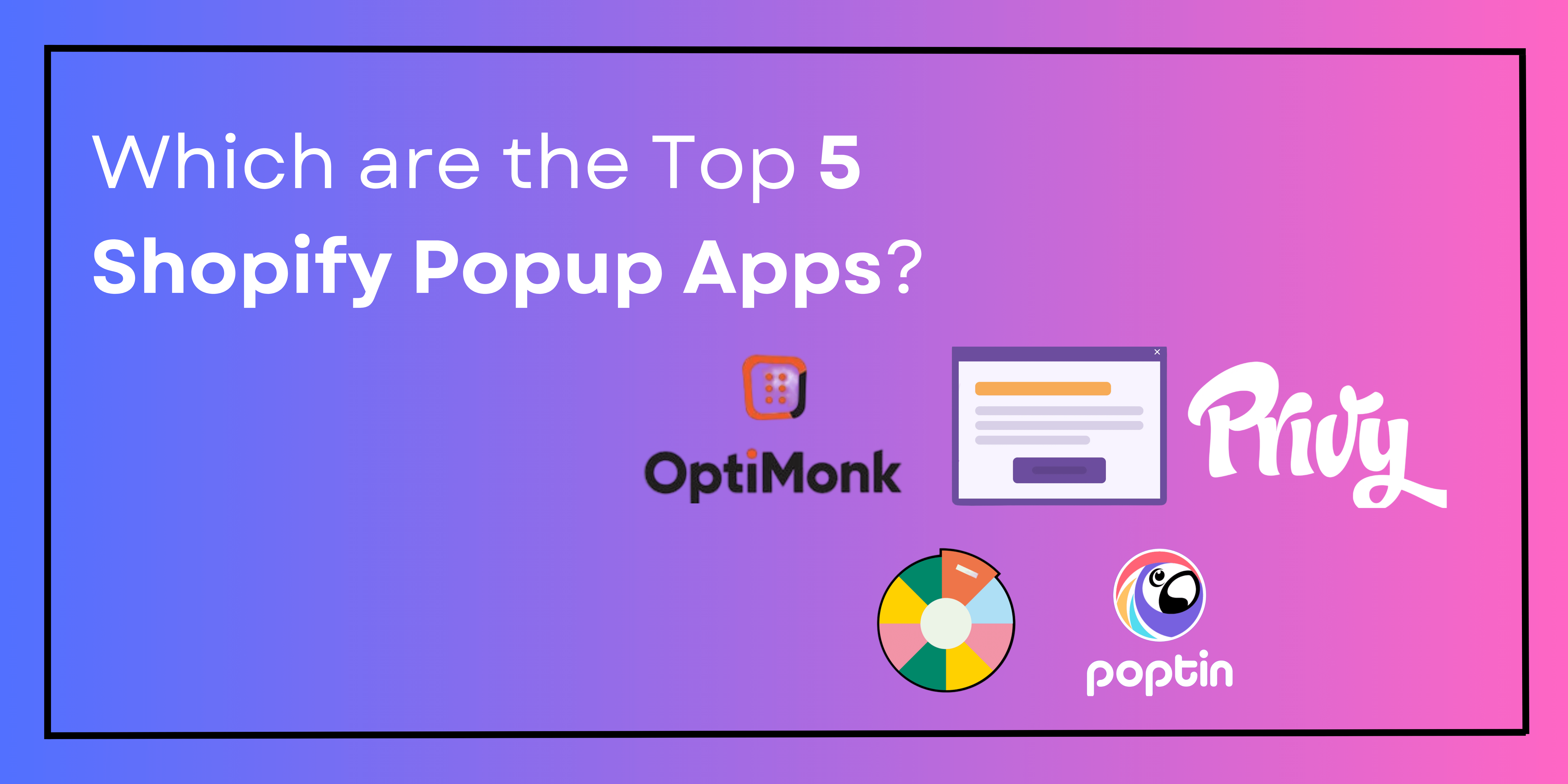 Conclusion
You will find numerous popup on Shopify app store. While selecting the finest Shopify apps for popups, make sure you compare them before buying a subscription. In case, you need to integrate a Shopify popup app or need any technical help, our Shopify experts are always there to help you. Book a FREE consultation with us.
Which is the best popup app on Shopify?
Optimonk is the best popup app on Shopify.
Which is the simple popup app on Shopify?
SmartPopup is a simple and free Shopify popup app that you can use.
How do I create a pop-up notification in Shopify?
Firstly, integrate a popup plugin in your Shopify store. After that, you will find various templates to customize your popups in the popup builder. Create an appealing popup notification and activate or boost sales.
How do I get sales on Shopify without ads?
You can use popups to generate more sales without ads. A lightbox popup or Spin wheel popup will help you out.
What is a popup or lightbox in Shopify?
Lightbox is a kind of popup that is mostly used to get a beautiful effect in which the background is dimmed and visitors are encouraged to fill the given field.
Shivangi is a passionate Copywriter at Alian Software with expertise in technical copywriting. She shares information that is easy to understand regarding business, technology, and trends.