Comparison of MeWe app with other social platforms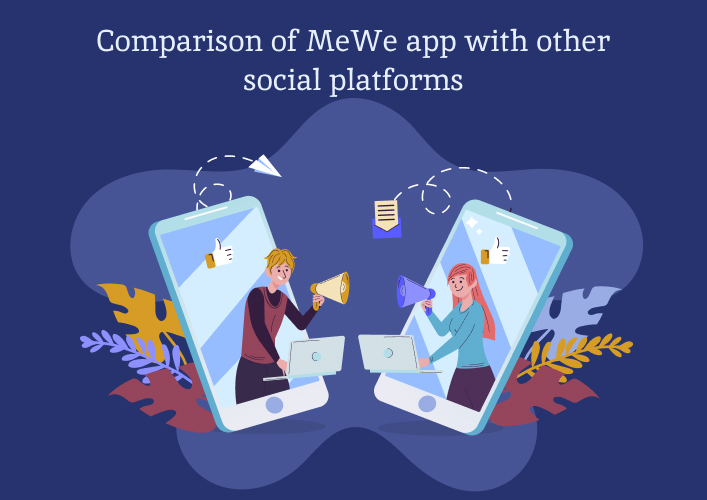 MeWe is somewhat similar to other social networking applications. The site's user interface may seem so much like Facebook's. For example, to show their approval of a post, users can click the thumbs up, heart, or happy face buttons. Their postings can be shared across all of their feeds. Each user has their own profile and page, and users may form groups based on common interests.
But, one thing is unique and that is advertisements. Since there are no affiliated ads, the app operates on a 'users pay, not advertisers' basis. Although joining and using the network is free, subscribers are required to have access to the more sophisticated services. For instance, a monthly membership to make a company page would set you back $1.99. Cloud, phone and video calling, and personalized emoticons are just some of the premium features that may be unlocked for an extra $4.99 per month.
The nice part about the MeWe social media app is that it has cooperated with Google and Microsoft for their automation solutions. Microsoft Office 365 allows for seamless document sharing between distributed teams.
Features to add while developing an app like MeWe app
If you compare different social networking platforms, especially MeWe-like applications, you'll find that they all have a few things in common. You should think about these core characteristics when estimating the cost of constructing a social networking software like the MeWe app. Additionally, the cost of developing an app like MeWe will rise noticeably when you decide to include more, custom features in your software.
Making a Profile
Your app's users will only feel comfortable and engaged if they can utilize their profiles to really reflect who they are. This involves collecting information such as their name and allowing them to create avatars.
Authorization
The security of your users' information and identities relies on a solid authorization procedure. That's why you need to incorporate it into your app like MeWe app immediately. The process entails accepting login credentials in the form of a user's phone number or email address. Some security measures, like the ability to retrieve forgotten passwords, are also necessary.
Messaging
If you're working on a social networking site like MeWe, one of your top priorities should be giving people a way to talk to one another. You can upgrade your chat system so that users may share more than just text messages, including images, videos, and even virtual stickers.
Query engine
A search feature that lets users locate their friends' profiles, communities they'd be interested in joining, and postings they found interesting can go a long way toward improving your app's usefulness.
Interface for Use
The design of an application, while not as fundamental as its functions, is still significant since it is what sets your work out from others. This phase of creating your social network app on demand might be the most expensive. Make sure your application's UI is visually appealing and gives users a pleasant experience while designing it.
Management of access privileges
It's important to keep in mind that today's engaged and privacy-conscious consumers are the norm while planning the development of an app like MeWe. They will recognize your app's unique selling point (USP) if you provide extra features like giving users complete control over permissions. Users have complete access and permission control over their data using this functionality.
Feeds and alerts
The news stream isn't something new, and consumers are familiar with this service previously. However, it's necessary to add this function as a news feed that refreshes your users with what's going on with your friends and family. Your feed is a real-time stream of updates from the individuals in your app network, such as relatives, friends, acquaintances, pages, etc. Your news feed will update whenever there is a new post or event. You will receive push notifications for the same even if you are not currently using the app.
You can also add money-making features like users with a paid membership to the app may form groups to facilitate conversations among people who share similar interests. The group functions as a forum where members may freely express their opinions, views, and goals. Like the MeWe app, you may choose content filtering measures that nevertheless let users freely express themselves.
Conclusion
Creating an app like MeWe emphasizes user privacy and data protection. It involves a multi-faceted development process that encompasses design, programming, infrastructure, and security considerations. The total cost can vary widely depending on a variety of factors, including the platform you're developing for, the features you want to include, the size and location of your development team, and more.
Thus, the app pricing varies according to a number of criteria. These include the platform, team size, location, technology stack, features, and more. However, the range for developing an app like MeWe app is approximately between $120,000 and $230,000.
Can I create a social networking app like MeWe as a solo developer?
It's extremely challenging due to the complexity and resource requirements. Collaborating with a team of experts is often necessary.
How long does it take to develop an app like MeWe?
The timeframe depends on the complexity of the app and your team's size and expertise. A basic version might take several months, while a feature-rich app could take a year or more.
Are there any alternatives to developing from scratch?
Yes, you can use existing frameworks and platforms to speed up development. However, custom development may still be required for unique features and security.
How can I monetize a social networking app like MeWe app?
Potential monetization options include premium subscriptions, in-app purchases, and partnerships with businesses.
What are the ongoing costs of maintaining an app like MeWe app?
Ongoing expenses include server hosting, updates, bug fixes, customer support, and operational costs.
Shivangi is a passionate Copywriter at Alian Software with expertise in technical copywriting. She shares information that is easy to understand regarding business, technology, and trends.