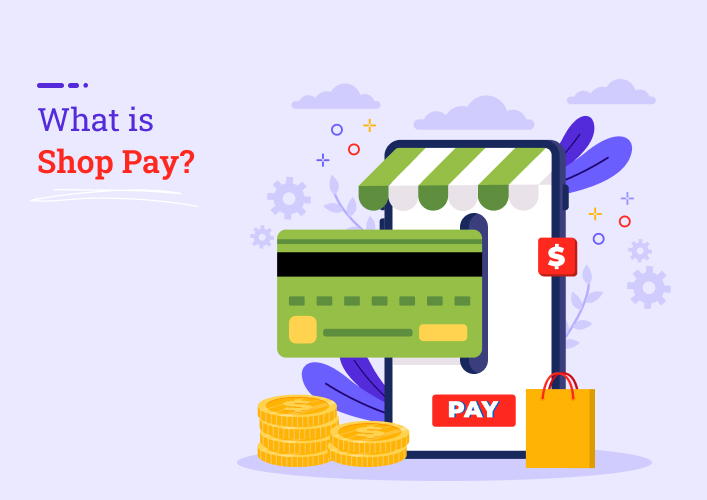 Customers of a Shopify shop have the option of using this payment method and get a streamlined payment and checkout system. Its checkout experience will make it easier for your consumers to complete their purchases, increasing the likelihood that they will return in the future. To use Shopify's payment features, a consumer just needs to submit their email address.
There is a plethora of cool options to try out. Its services like local pickup and delivery choices save your consumers time and effort during checkout. Furthermore, both consumers and merchants may have confidence that their data is secure and protected. Shopify's PCI-compliant servers are where your payment and shipping details will always remain. Thus, you eliminate the potential for compliance concerns by not storing any customer data on your website.
Shop Pay is an easy payment option that benefits both you and the client. This button on your checkout page makes it easy for customers to complete their purchases. Next, the customer will fill out their billing, shipping, and payment card details. Customers may speed up the checkout process by saving their information and then using only their phone number when they return. With this
payment method
, customers don't need to re-enter their payment information each time they shop with you since they can just approve the transaction instead.
Your consumers will need to get a verification number via text message for safety reasons. Users may securely approve payments with this 6-digit code. This implies that, critically, every single shopper must provide their cell phone number before making a purchase. Customers may feel easy knowing that you will only use their phone number for SMS verification and payment choices since all data is stored on compliant servers. The result is happier customers as a whole.
How are the installments made?
The flexibility of Shop Pay to allow for either immediate full payment or installments is one of its most appealing features.
The consumer selects the installments. They have the option of making four equal payments rather than one large one. The consumer chooses a debit or credit card as the primary method of payment, with which all subsequent payments will be made. In order to make payments later, the account guides consumers through a quick identification verification procedure. The primary goal of establishing eligibility is to prevent fraud. They do not look at credit reports. The client consents to the conditions and approves payment using Shop Pay. Thereafter, to ensure the user's safety, the app sends them a 6-digit verification number via text message.
Payment plans using are not like credit cards. Making a payment in installments does not incur any extra costs or penalties. You can avoid late fees by paying early using the same checkout page. However, if you make a late payment, it may limit or even ban your account.
Conclusion
There are a number of considerations to make when deciding whether Shop Pay is the best option for your Shopify shop. The advantages of using this payment method include higher conversion rates, quicker checkouts, and increased safety. It may be a convenient option, but whether or not to use it depends on your unique company and clientele.
Is Shop Pay free for Shopify store owners?
Yes, it is a free feature for Shopify store owners. However, there may be credit card processing fees associated with transactions made through Shop Pay.
Is Shop Pay available in all countries?
It is available in selected countries, and the availability may vary over time. You can check Shopify's official website for the most up-to-date information on supported countries.
How can I enable Shop Pay on my Shopify store?
To enable Shop Pay, go to your Shopify admin, navigate to "Settings," and then "Payment Providers." Under the "Shop Pay" section, you can enable it as a payment option for your store.
Can I use Shop Pay alongside other payment gateways?
Yes, you can offer Shop Pay as one of the payment options alongside other payment gateways like PayPal, credit card processors, and more. Giving customers multiple options can be beneficial.
Are there any specific requirements or eligibility criteria for using Shop Pay?
It is generally available to most Shopify store owners, but it may have specific requirements or limitations based on your location and the products you sell. Ensure your store complies with Shopify's policies.
Shivangi is a passionate Copywriter at Alian Software with expertise in technical copywriting. She shares information that is easy to understand regarding business, technology, and trends.