Reasons to migrate from Opencart to Shopify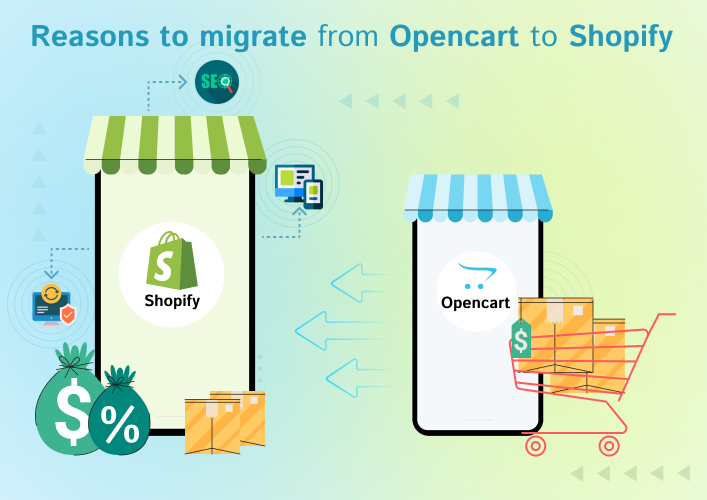 There are various benefits of migrating from Opencart and launching a store on Shopify. For instance, Opencart doesn't offer many templates whereas Shopify has great room for customization. Furthermore, Opencart has fewer marketing features whereas Shopify provides advanced sales and marketing features. Thus, due to its advanced features & functionalities, Shopify rules over Opencart.
Shopify is one of the most simple online storefront builders available. Designed with a simple UI and several powerful functions. You don't need to be tech-savvy to operate and administer your store.
Shopify provides mobile-responsive designs and capabilities to cater to the growing demands of mobile online buyers.
Hosting, security, and software updates are all handled for you by Shopify. You won't have to worry about hosting or maintaining the store's technology.
Shopify has a number of marketing tools for sales, events, and other types of campaigns. It may also be integrated with third-party applications and email marketing systems to boost productivity.
Furthermore, Shopify's built-in SEO capabilities and tools may be used to enhance your store's visibility on search engines.
Steps to migrate from Opencart to Shopify
Before migrating from Opencart to Shopify it is important to follow some pre-migration steps. They are as follows:
Backing up the Data: You may encounter various problems while migrating your store to Shopify. Thus, to prevent any type of data loss you must have a data backup.
Get to know about Shopify: Don't go into something you know very little about. Learn as much as you can about Shopify and what it can do. You may use this information as a reference while you plan migration.
Choose a migration date: Choosing a day and time to migrate is important and will help you be ready for what's ahead. Pick a time of day when customers are least likely to be at the shop. Your customers will have a more pleasant shopping experience if you take this precaution.
Create your Shopify account
Sign up with Shopify. Thereafter, the platform will immediately set up a temporary test shop for you to use. Select a Shopify price plan that works with your company's spending limits and demands. Thereafter, choose the domain. If you already have a domain, you need to transfer your third-party domain to Shopify. Furthermore, customize the store as per your requirements. Choose a theme, fonts, layout, etc.
Migrate your data
This is where the migration really happens. The process entails importing all of your previous OpenCart data into Shopify. However, there are two ways to do this.
Manual data entry is an option for retailers with a limited number of items to move. This process requires you to manually input data about your products, customers, and orders into your Shopify shop. While this approach takes some time, the results are reliable.
In order to import your OpenCart data into Shopify, you may use the.csv file import technique. Pay close attention to the data formatting to avoid mistakes. Apps like Cart2Cart, which automate the migration process, are often utilized by businesses with many locations. This is so because it facilitates a more streamlined and automated transfer procedure. Use these automation tools to save time and avoid losing data.
Optimize your store
After completing a data migration, the next step is to ensure the continued working of your store. Optimizing the look of your shop starts with a well-thought-out plan and design. Let your store speak about your brand. You can easily duplicate your OpenCart store's unique banners, popups, and widgets on Shopify by utilizing the platform's built-in or third-party apps.
Thereafter, it's important to have high-quality, appropriately sized photographs of your products. Images of products should be categorized, tagged, and described so that they can be quickly found by buyers. Furthermore, revise your product URLs, meta titles, meta descriptions, and alt tags so that they adhere to Shopify's SEO standards. This will guarantee that people can find your business and the things you sell using search engines.
Add payment methods and test
Firstly, add various payment methods. Shopify's payment gateways include PayPal, Stripe, and many more, or you may add your own. Choose from a variety of shipping options depending on the products you sell and the locations to which they will be sent. Shopify gives you the choice between shipping based on weight, shipping based on geography, and a flat charge.
Thereafter, test your store's responsiveness on a variety of platforms, especially mobile ones, as the number of people shopping from their phones continues to rise. Verify that the shop works properly on the user's device. Check the store's functionality and fix any problems you notice before launching.
Conclusion
An Opencart to Shopify migration is a big job, but it's worth it if you want a more flexible and user-friendly e-commerce platform. Make sure you have a recent backup of your Opencart shop and be ready to manually transfer data and make adjustments. Making the switch to Shopify will cause minimum inconveniences to your company if you follow these procedures and take your time.
How long does the migration process typically take?
The time required for the migration process can vary significantly depending on the complexity of your Opencart store and the amount of data to be transferred. It could take a few days to a few weeks to complete the process.
Do I need to recreate my design and theme on Shopify?
Yes, you will need to select and customize a Shopify theme to match your brand. While you can't directly transfer Opencart themes to Shopify, this presents an opportunity to refresh your online store's design.
What happens to my SEO rankings during the migration?
By setting up 301 redirects from your old Opencart URLs to your new Shopify URLs, you can preserve your SEO rankings and ensure that search engines and users are directed to the right pages.
Can I migrate customer passwords from Opencart to Shopify?
Customer passwords are encrypted and cannot be directly migrated. However, you can inform your customers about the migration and ask them to reset their passwords in the new Shopify store.
What support does Shopify offer for the migration process?
Shopify provides extensive documentation and resources to assist with migrations, and you can also consider using third-party migration tools or hiring Shopify experts if you need additional support.
Shivangi is a passionate Copywriter at Alian Software with expertise in technical copywriting. She shares information that is easy to understand regarding business, technology, and trends.