Working on Shopify Marketing Automation
In brief, marketing automation is the use of software or apps to do repetitive marketing tasks. Research by Demand Sage mentions that 91% of users think that marketing automation is helpful.
Shopify's app store is filled with helpful apps that may help in automating marketing tasks. Promotional advertising, email campaigns, social media posts, and more may all be automated.
As discussed above, marketing automation for shopify can help you to reduce costs and increase productivity. You can build a flawless, long-term marketing plan with the help of Shopify marketing automation apps.
Furthermore, with marketing automation apps you can categorize audiences, send personalized messages, A/B testing, etc. You can also generate a report of your automotive tasks or marketing campaigns to check whether your strategy was effective or not.
You can also set an action that triggers at a particular point. For example, if a customer abandons a shopping cart, with automation a marketing email will be directly sent to the customer. Similarly, if a customer makes a purchase, a 'thank you' or 'order detail' mail can be sent automatically.
Benefits of Shopify Marketing Automation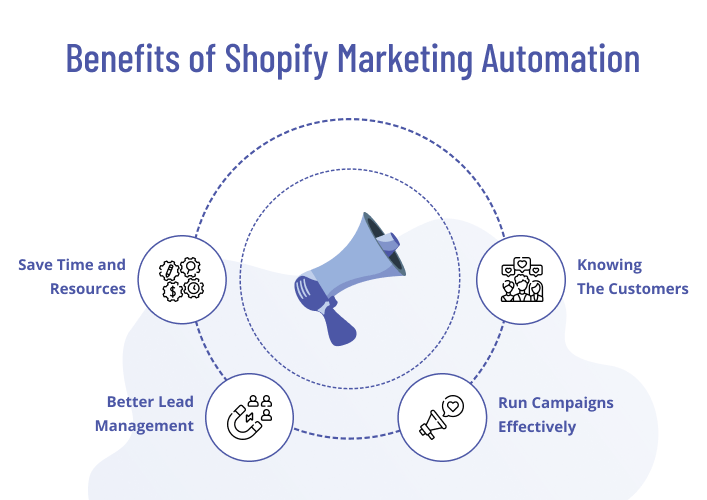 Knowing The Customers
Customers value reliable service. Additionally, they like messages that are personalized. Customers are more likely to return to a shop that treats them like an individual and makes an effort to understand what they like.
When you use marketing automation for Shopify store, you'll never forget a customer's birthday or anniversary. Furthermore, primary clients will feel valued and appreciated if you give them early access to deals and events.
Run Campaigns Effectively
Marketing communications include more than simply keeping in touch with people; they also involve foresight and planning. One of the strategies is a drip campaign. In that, a series of pre-written emails are sent out at scheduled times.
Furthermore, scheduling personalized messages depending on the customer's activities will help you better manage your relationships with them. Thus, with Shopify marketing automation apps you can save your time and effectively implement drip campaigns.
Better Lead Management
With automation in marketing, you can effectively manage leads and convert them into potential customers. If a consumer provides an email address for a discount voucher, you may set up an automated system to send them personalized promotional emails.
Furthermore, if a customer visits your Shopify store, with automated popups, you can convert a visitor into a customer. With automation, your sales staff will be notified of high-quality leads or important lead activity.
Save Time and Resources
Marketing automation helps you save time, increase customer involvement, fine-tune your advertising, and boost your profits. As there is no need of doing tasks manually, you won't require additional manpower.
Sending personalized emails to 1000 customers takes a lot of time. But with marketing automation, you can send emails in bulk within seconds.
Tips For Successful Shopify Marketing Automation
It's important to set goals and a plan to begin right away. Identify which parts, such as a welcome message, cart recovery emails, and pop-ups, may be automated and note them down. If you want the greatest results, you need a well-thought-out marketing automation plan and the appropriate tools to implement it.
The best method to expand your business is to expand your list of satisfied consumers. You may learn more about your target audience and what they like. Your marketing efforts will benefit from a deeper understanding of your target audience.
Furthermore, you need to do marketing automation in the right direction. More interaction is likely to occur if you provide them with stuff that is of interest to them. You may divide your target audience into groups using the filters provided by most marketing automation apps. Thus, you may tailor your content to the tastes and online habits of certain demographics.
Analytics plays an important role in every online business. It's important to gain insight into your actions to determine whether your strategy is working or not. Shopify marketing automation apps monitor your business's operations and provide detailed information on website traffic, leads and sales figures. You can analyze the data and modify your marketing strategy accordingly.
Best Shopify Marketing Automation Apps
You can find many apps on the Shopify app store to perform marketing automation for Shopify store. The following are some of the most recommended apps that may be added to your Shopify shop.
Conclusion
Your marketing efforts will be completely transformed once you adopt marketing automation. Furthermore, to boost productivity and cut down on unnecessary expenses, Shopify marketing automation apps are the way to go. If you are still confused, book a FREE consultation with our Shopify experts now!
Can you do email automation on Shopify?
Yes, apps like Abandoned Cart Recovery Email, Shopify Email, etc can help you with email automation on Shopify.
How do I get customers' emails on Shopify?
You can use popups that offer discounts or newsletter sign up to get customers' emails on Shopify.
Does Shopify give free business email?
No, Shopify doesn't provide free business email. You will need third-party email hosting.
Which is the top marketing automation platform?
Hubspot, Mailchimp, Oracle Eloqua, etc are the top marketing automation platforms.
What is an example of marketing automation?
One example of marketing automation is if a customer abandons a shopping cart, with automation a marketing email will be directly sent to the customer.
Shivangi is a passionate Copywriter at Alian Software with expertise in technical copywriting. She shares information that is easy to understand regarding business, technology, and trends.