5 Best Webflow Alternatives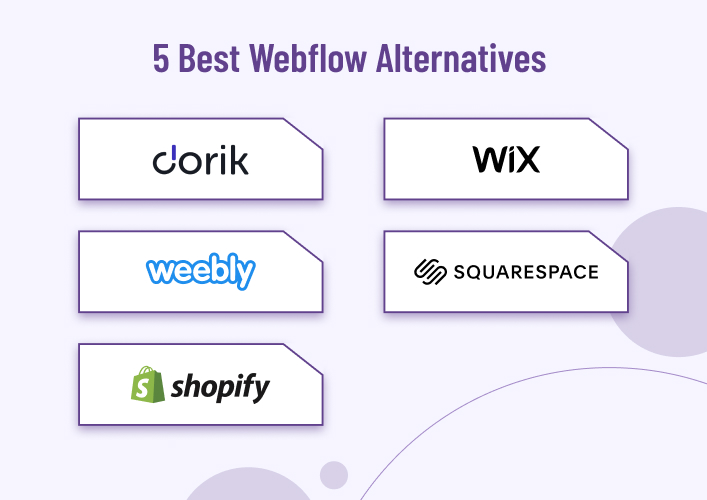 There are many Webflow alternatives available in the market from which here I am listing the 5 best platforms that can help in building, designing, and launching a user-friendly website.
Dorik is one of the excellent Webflow alternatives to use. With its easy drag-and-drop interface and library of over two hundred user interface components, this no-code website builder is very easy to use.
You may create a website from scratch in minutes with the help of Dorik's website builder, templates, and UI components library. It's a powerful website builder with complex features, allowing you to easily design beautiful single-page websites. There is no requirement for design knowledge since hundreds of premade themes and UI elements are provided.
Websites for software as a service (SaaS), the web, and mobile app templates may all be made. Every site receives a free Encrypt SSL certificate. Users may easily connect their own domain or subdomain from any domain provider to the platform.
Dorik white-label CMS may be used to create any kind of website, from a personal blog to an online store, without sacrificing speed or quality. You have complete control over the look and feel of your content management system because of the website builder's adaptability and simplicity. Hotjar, Google Analytics, MailChimp, Integromat, and more may all be integrated with the platform. You can create a website for free, but the more advanced features will need a paid subscription.
Wix is also one of the popular Webflow alternatives widely used by website builders because of its intuitive interfaces. There are more than 800 different designs available, and the interface is as simple as dragging and dropping elements. Wix also allows you to edit in your own HTML snippets, in addition to providing a large variety of design components to choose from.
E-commerce features are included on the more expensive subscriptions, and an SEO wizard is included for newcomers. Wix also includes a blog widget and access to its own app store stocked with both paid and free applications and helpful widgets. If you value simplicity above everything else, Wix is a great alternative to Webflow. This easy-to-use website creator is perfect for newbies or anybody else in need of a lightweight platform. Wix may also be used by solo entrepreneurs as a company website or portfolio. However, if e-commerce is your first priority, you may find that it has fewer options.
Weebly is an alternative to WordPress and Webflow that caters to inexperienced users. Approximately 40 million websites are powered by Weebly. It's a fantastic choice, particularly if you're on a tight budget. Weebly offers a cutting-edge mobile app that simplifies working on or updating your site hassle-free. Even while Weebly has fewer themes and functionalities out of the box, it is a superior alternative for larger sites.
To begin, the Weebly editor makes it easy to create intricate layouts by incorporating things like forms and picture galleries into blog posts. Wix only supports text, images, and videos in blog posts. Secondly, because Weebly enables an infinite number of sub-levels, you may create a very complex navigation menu. The free plan includes a little grey Weebly banner at the bottom of your page. Starting with the Personal plan ($6/mo. ), users may create and manage their own custom domains.
Squarespace has become well-known for its striking design templates. The website builder has some of the most aesthetically pleasing design templates available. It's packed with useful extras and provides you access to a ton of eCommerce possibilities.
Visually stunning websites with superior layouts may be made with ease using the drag-and-drop functionality and fully configurable options like colors, fonts, and page setups. Squarespace makes it easy to create websites that look great on every screen size.
But, its lack of customization options in comparison to Webflow is a major drawback.
To help you get started, Squarespace provides a free trial. Squarespace's Personal plan costs US$23 per month, while the Business plan costs US$33 per month.
If you want to offer products or services online, you'll need a hosted eCommerce platform like Shopify. Shopify is the most widely used e-commerce platform because of its extensive third-party marketplace for both free and paid applications, extensions, and customizations.
Shopify allows you to set up and manage your very own online shop. Shopify's drag-and-drop website builder allows you to create posts and pages after choosing an eCommerce theme from more than 50+ available choices. Shopify's basic plan includes features such as a built-in blog, customer reviews, payment gateway integration, abandoned cart recovery, and statistics for site traffic and product sales. When compared to Webflow, Shopify somewhat lacks in terms of customization and adaptability but it is a nice alternative with advanced marketing and analytics features.
Conclusion
There are many Webflow alternatives but the one that fits your requirements and technical skill set is what you should choose. Doorik, Wix, Squarespace, Weebly, and Shopify were some of the alternatives described in this blog. You can also hire a web development company to develop your custom website from scratch.
Is Webflow still a good choice in 2023?
Webflow continues to be a popular choice for web design and development due to its flexibility and visual design capabilities. However, the landscape may have evolved, so it's important to assess your needs and explore alternatives if necessary.
Are these alternatives beginner-friendly?
Many of the alternatives listed above offer user-friendly interfaces and drag-and-drop functionality, making them suitable for beginners. However, the learning curve may vary, so it's advisable to explore their tutorials and support resources.
Which platform is best for e-commerce websites?
Shopify is a top choice for e-commerce websites due to its specialized features, but other platforms like Wix and Squarespace also offer robust e-commerce capabilities.
Do these alternatives require coding skills?
The extent of coding skills required depends on the platform and your project's complexity. Some, like Wix and Webflow, are designed for visual development with minimal coding, while others, like WordPress, offer more advanced coding options.
How do I choose the right alternative for my project?
Consider factors such as your project's goals, your design and development skills, budget, and scalability requirements when choosing an alternative. It's also helpful to test out a few platforms to see which one aligns best with your needs.
Shivangi is a passionate Copywriter at Alian Software with expertise in technical copywriting. She shares information that is easy to understand regarding business, technology, and trends.