The benefits of using Shopify to sell art online
You must be having a question in mind about why not Woocommmerce or other ecommerce platforms. It is just because of Shopify's advanced features over other platforms. Some of the many reasons why creative types use Shopify are mentioned below:
User-friendly Interface –Shopify is a platform that makes opening an online shop simple for creatives with few technological skills. Creating a visually appealing storefront is a breeze with the help of the drag-and-drop builder.
Customizability – Artists will like the degree of customization Shopify gives. There are many different themes available, and you may modify them to suit your own unique taste. You may customize the style and feel of your shop to suit your tastes.
Safer Transactions – Shopify supports a number of popular external payment processors such as PayPal, Stripe, and more, in addition to its own payment gateway, Shopify Payments. Your customers can shop with assurance, and you can collect payments without any hassle.
Stock Management – For artists with a large selection of items, Shopify gives comprehensive inventory management capabilities. Manage your inventory of arts and crafts with ease by keeping notes on stock and getting notifications when supplies run short.
SEO and Advertising – Shopify has in-built search engine optimization tools to boost your site's visibility in results pages. In addition, you may promote your paintings and entice potential purchasers by integrating a number of marketing tools and applications.
Convenient for mobile devices – Your online shop must be accessible on mobile devices in today's mobile-first society. Shopify guarantees that your store will display and perform optimally on mobile devices.
Steps of using Shopify to sell art online using Shopify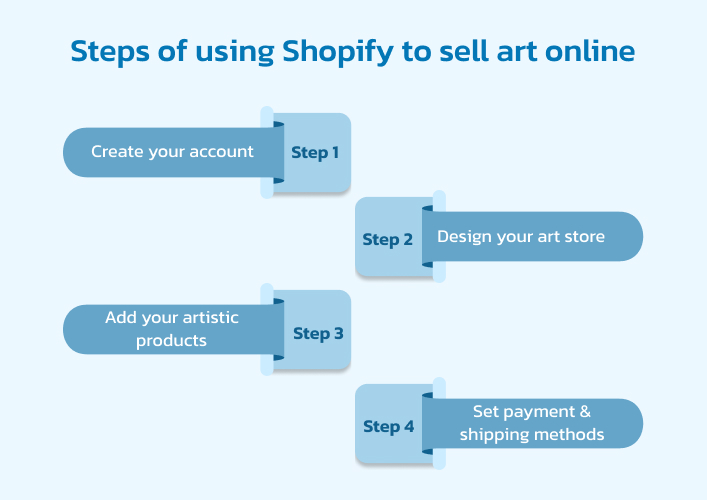 Now, you need to set up your Shopify store to sell art online. Let's discuss the steps for selling online.
Create your account
Creating a Shopify account is the first step. Visit Shopify and select 'Get Started' to begin creating your online store. You can also test out Shopify for free for three days. A valid email address is required. Next, select 'Start Free Trial' to begin your evaluation. Once you've done that, you need to answer Shopify's questions. Simply select the options that most closely match your store when prompted.
Thereafter, select your country and then click the next button to continue setting up your Shopify store and logging in. Once on your Shopify dashboard, you'll notice the steps of things you have to complete. It includes selecting a price plan, adding a product, and modifying existing templates.
Design your art store
After signing up, you'll have access to the site editor. Using one of Shopify's many available themes or templates, you can give your online store a unique look and feel. Select 'Online Store' on the left side of the dashboard. You may see how your business will look like with the current layout. The next step is to choose 'Customize' to begin modifying the site's theme. You can also add a video banner in the theme to enhance the look of your artistic products store.
Furthermore, if you don't like the current theme, you can select a different one from the free options by clicking 'Add Theme' under the Customize button. Select a template that you may modify to fit the needs of your company. To make your website more official looking, you may also modify the colors and style.
Add your artistic products
After establishing your online storefront, you can begin adding art items for sale. Click the "Products" tab on your dashboard's left side, and then click 'Add product' to add a new item. When you click the 'add products' button, you'll be sent to a screen where you can specify the art's name, art's description, price, and other attributes.
Set payment and shipping methods
You'll need to establish a means of receiving money before you can begin doing so. The number of accepted payment methods is extensive on Shopify. To configure your chosen payment gateway, choose it from Settings> Payment Provider.
The last step is to arrange for shipping and delivery. To customize how your orders are shipped, select 'Shipping and Delivery' from the 'Settings' menu. You may provide free delivery, a fixed charge, or shipping costs based on the item's weight and where it needs to go. This way you can sell digital art or limited edition art on Shopify. Set timers and countdown till the time period ends for limited edition art.
Conclusion
Shopify lets artists sell art online. With its user-friendly interface and a range of features, you can create a professional online store, showcase your artwork, and reach a global audience. By following the steps outlined above and promoting your store effectively, you can successfully sell your art through Shopify.
How much does it cost to use Shopify for selling art online?
Shopify offers different pricing plans, starting with a basic plan and scaling up to more advanced options. The cost depends on the plan you choose and any additional apps or features you need.
Do I need technical skills to set up a Shopify store for selling art?
Shopify is designed to be user-friendly, and you don't need advanced technical skills to set up a basic store. However, some customization and advanced features may require technical expertise or the help of a developer.
Can I sell both physical and digital art on Shopify?
Yes, you can sell both physical and digital art on Shopify. You can create product listings for physical art pieces and use digital products for digital art downloads.
What is the best way to market and promote my art on Shopify?
Effective marketing strategies include using social media, email marketing, content marketing, and search engine optimization (SEO). Engage with your audience through storytelling and behind-the-scenes content.
How can I protect my art from copyright infringement when selling it online?
You can protect your art by watermarking images, registering your copyrights, and clearly stating your copyright policies in your store. Additionally, monitor your art online and take action if you discover any copyright violations.
Shivangi is a passionate Copywriter at Alian Software with expertise in technical copywriting. She shares information that is easy to understand regarding business, technology, and trends.